Experts discuss mission tiger
Jotirmay Thapliyal
Tribune News Service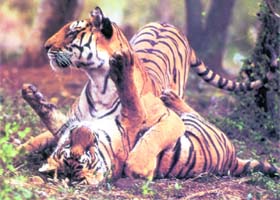 Dehradun, April 20
Even as yet another census is in the offing, experts here at the Wildlife Institute of India are preparing for a massive exercise to preserve the tigers amidst increasing concern over the rising number of their deaths in recent times.
A national consultative meeting on "Emergency issues on tiger conservation" held at the institute was attended by chief wildlife wardens, principle chief conservator of forests and eminent persons committed to tiger conservation.
Expressing concern over the deaths of tigers, the meeting, that was presided by Uttarakhand chief wildlife warden Srikant Chandola, stressed on better inter-state and inter-departmental ties if the tiger was to be saved in the country.
Union environment and forests minister Vijay Sharma called for more focused efforts to save the tiger while calling for ensuring people's participation in such an exercise. He exhorted institute officials to come with more accurate data on tigers in the forthcoming census.


Action Plan
Want better inter-department coordination
Improved equipment for anti-poaching cell
Fresh recruitment in the frontline staff
Rehabilitation of villages within tiger habitat
Safeguarding tiger corridors
While efforts by Uttarakhand to safeguard tigers were lauded, the need for expansion of Corbett National Tiger, which has the highest density of tigers in Asia, was emphasised.
There were deliberations on coordination between Uttarakhand and Uttar Pradesh for curbing activities of poachers in the region. National Tiger Conservation Authority's Dr Rajesh Gopal outlined the need for effective planning for tiger conservation.
He in particular appreciated the role of the Wildlife Institute of India in conducting the first-ever most scientific census of tigers in the country.
He asked the institute scientists to further better their technique in the next census which is likely to begin shortly.
On wildlife offence cases, the speakers expressed concern over the rising number of vacancies in the frontline staff which was proving detrimental to the forest officials' efforts towards safeguarding tigers.
Senior wildlife official and Uttarakhand anti-poaching cell head Paramjeet Singh said the meeting gave much importance to strategy formulation. "While coordination among various states and departments was emphasised, people's participation in efforts to preserve the tiger also came up for discussion," he said.
To curb poaching, the participants called for equipping the forest staff with the latest devices to confront the hi-tech poachers. The balance between eco tourism and conservation was seen to be affecting tiger conservation.
There has been increasing inclination in wildlife areas towards tiger- centric tourism. Tiger reserves across the country are some of the most-sought-after destinations. While many at the meeting said that promotion of eco tourism should not be at the cost of the tiger, some emphasised on limiting tourism activity inside tiger areas and also ensuring that such activity did not affect the tiger environs in any manner.
While checking poaching certainly was all-important, relocation of villagers from critical tiger habitats was also discussed at the meeting. A comprehensive policy for ensuring smooth rehabilitation of villages that fall within tiger habitats was sought. Top forest officials from Andhra Pradesh, Uttar Pradesh, Tamil Nadu, Madhya Pradesh, Arunachal Pradesh, Rajasthan and West Bengal discussed the problems arising from dislocation of villagersThe man-animal conflict and its impact on tiger conservation efforts was also discussed threadbare.
There was general opinion that increasing hostilities between residents and the wildlife, mpasrticulasrly the tiger, would be disastrous for the striped cats. Going into the causes that lead to such a conflict and prompt redressal of such issues was prime on the agenda.
Additional principle chief conservator of forests and chief wildlife warden Srikant Chandola said Uttarakhand had done commendable work towards tiger conservation with Corbett emerging as one of the finest habitats for this charismatic species. He said tigers sightings had increased at Rajaji National Park, which was a welcome sign.
The experts said that increasing the tiger territory was of prime importance, particularly in areas where there was a problem of spillover. Experts said the wild cat needed at least 10 to 12 sq km. When their numbers increased, the tigers moved into new areas but permanent constructions were now an impediment to their free movement.
While the tiger continues to be a subject of concern for wildlife officials, voluntary organisations call for safeguarding the tiger corridors in the country. "Corridors are key to betterment of tigers. "But with destruction of these corridors due to encroachments and other human activity, the movement of tigers has been seriously affected," explained Dr Hem Singh Gehlot, WWF of Nature Studies.
The WII meeting could not have come at a more appropriate time as the nation struggle to arrest the steadily declining number of tigers. Their number in the country at present is not more than 1,200.