Lack of space makes skating move indoors
Vishal Thakur
Tribune News Service
Dehradun, April 20
Roller-skating is picking up popularity in Dehradun as lack of open space, parks has made children opt for the sport, which could be played within the confines of their house.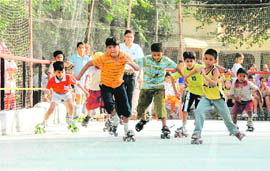 In the recent years, open spaces like parks and playgrounds have vanished from the city and children are left with place for their outdoors activities said Pankaj Bharadwaj, owner of the Crony Skating World.
Therefore, kids are now taking skating as a thrill game that could be played within their house.
Pankaj accepted the fact that roller-skating is a fun game that is less expensive and could be played with in the house as well.
"It is a fun game. One can enjoy this game individually. You do not require a second person equally competent to play the game with you," said Pankaj.
A few years back the popularity for the game was just limited to Mussoorie with few schools encouraging the sport there.
But there has been a drastic change in the last six years with 30-40 schools of Dehradun has included the sport as a main game in their schools.
The encouragement given to the game by the schools authorities has produced winners at the national and international level in the game in just a short span to time.
Pankaj Bharatwaj, owner of the Crony Skating World said the sport has a huge potential and is expected to grow further in the coming times.
"There are at least 10,000 skaters in the state. Dehradun has 3,000 skaters, Haridwar has got above 4,000 and Mussoorie contributes 2,000 skaters. The number of skaters is good in these places as they have good skating rink available there. Whereas, places like Vikasnagar, Rishikesh and Kashipur also has a huge potential of producing good players, but they lack in skating rink facilities," said Pankaj.
The game has many forms like roller ball skating, figure skating, road skating and marathon skating. But the most entertaining form is the figure skating in which the player performs different sequels.
Though, figure skating has not picked up here, but it could become popular in the days to come.
Ajeet Nautiyal, propitiator of Doon Sports Academy also accepted the fact that parents have shown interest in the game and are encouraging children to take up the sport.
Ajeet, who had opened an academy out of love for his son four months back, accepted that he too did not know much about the sport before his son, Kanish Nautiyal, won a gold medal at the international skating competition held at Nepal last year.
"In these four months, the number of enrollments in skating has gone above seventy. I never expected such a craze for a game. It is all because of lack of good play fields for children, which has made opt for the game which could be played indoors," said Ajeet.