Birju frowns on Padma awards for filmstars
Neena Sharma
Tribune News Service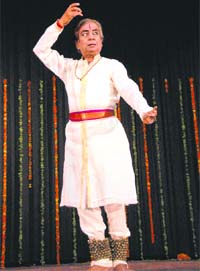 Dehradun, April 17
Uneasy with the way kathak and other classical dance forms were being presented on television and films, famous kathak maestro and choreographer, Birju Maharaj said they were in bad taste and were a testing the sensibilities of the audiences who are going to reject them one day.
"We have a centuries old tradition that do not permit vulgarity through 'shringar' and 'abhiney'. Several facets can be presented without resorting to grossness," Birju Maharaj said.
He was here to participate in the SPICMACAY Uttarakhand State Convention that began today.
He was also critical of the way the Padma awards were being conferred on film stars, year after year.
The youngest recipient of Padma Vibhushan back in 1984, kathak dancer Birju Maharaj was taken aback when his name was announced for the prestigious award.
"Those days the awards retained their aura and sanctity and were deemed as rare honour being conferred on the artistes.
"However, things have taken a downturn since then, going by the number of film stars who are bagging them every year, the influence of popular films seems to be overwhelming. As it is there is no dearth of awards for film stars but then why lower the prestige of awards," rued the maestro.
He began choreography with Shatranj Ke Khilari, even made Madhuri Dixit match her steps in Dil to Pagal Hai and Devdas.
"Though it was an out an out commercial film, but the producers came with a proposal in which the thumri and bols composed by my father were used.
"When I began apprenticeship under the tutelage of my guru and father Acchan Maharaj and uncles Lachu Maharaj and Shambu Maharaj, the times were different.
"Every word of the gurus had to be imbibed and every action observed minutely to get the grasp of the minutest details of dance and music.
There were no tape recorders or videos that are now being used as practice aids by students.
"I was blessed with good observation, it helped me sail through tough dance schedule and it has paid me off. I can continuously dance for more than four hours though my disciples tell me to go slow, " said Maharaj.
The sounds of ghungru and tabla that reverberated in his ancestral house were his constant companions in Lucknow.
"I was drawn to the activities taking place in my house.
"As I was poor in mathematics and other subject so my father did not unnecessarily burden me with school curriculum," he said.
There is an interesting anecdote related to the evolution of Birju Maharaj and his family members, who were known as Kathakars or those reciting Katha originally belonging to Katha khai village in Hariya Tehsil in Allahabad.
The conglomeration of people at the village, comprised of dancers, tabla players and singers all engaged in chitra katha, that is how kathak took it's name," said Maharaj.
His family members later moved to Lucknow and became regular performers at the court of Nawab Wajid Ali, who even presented the family a house as a token of appreciation.