Unite, Hooda asks party men
Faridabad, April 17
Chief Minister Bhupinder Singh Hooda today tried to play the role of a statesman in the Congress to impress upon his party leaders, including ministers and MLAs, to sink their differences and show unity of purpose in working for the success of the party nominees.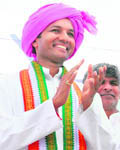 Hooda gives boost to Jindal's campaign
Kurukshetra, April 17
The campaign of Congress candidate from the Kurukshetra Lok Sabha constituency Naveen Jindal got a boost when Chief Minister Bhupinder Singh Hooda was able to bring all important Congress leaders of the constituency on one platform. When Hooda came here today to accompany Jindal for filing his nomination papers, all MLAs and Rajya Sabha members residing in the Kurukshetra constituency were present in the rally organised by the party here. Naveen Jindal

Bishnoi criticises Hooda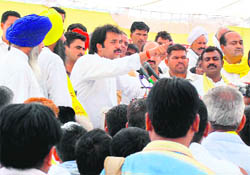 Kurukshetra, April 17
Haryana Janhit Congress president Kuldeep Bishnoi today appealed the voters to discard both Congress and INLD-BJP alliance and vote for the HJC for development and a secure future of the state. Addressing a rally after filing of nominations by party nominee Jaswant Singh Cheema from Kurukshetra, he launched a frontal attack on Chief Minister BS Hooda, charging him with discriminating against north Haryana in matter of jobs and development.

HJC (BL) chief Kuldeep Bishnoi addresses a rally in Kurukshetra on Friday. Tribune photo:
Ravi Kumar

EC brings cheer to pensioners, HAU staff
Chandigarh, April 17
Here is good news for Haryana government pensioners as well as teachers of the Haryana Agricultural University (HAU), Hisar.
Palwal killing
HC issues notice to CBI
Chandigarh, April 17
Just over a fortnight after a young Indian National Lok Dal (INLD) leader was gunned down on March 30 by car borne assailants, the Punjab and Haryana High Court today issued notice of motion to the state of Haryana and the Central Bureau of Investigation (CBI) on a petition seeking probe by the premier investigating agency.
Chaudhary's resignation a political stunt: Cong men
Faridabad, April 17
Haryana Minister for Urban Local Bodies AC Chaudhary has come in for criticism from his Cabinet colleagues and senior leaders in the Congress for tendering his resignation to Sonia Gandhi on the issue of not giving the party ticket to any member of the Punjabi community and described the gesture as a "political stunt".
58 file nomination papers
Chandigarh, April 17
On the penultimate day of filing the nomination papers for the Lok Sabha elections in Haryana, 58 more contestants filed their papers today, raising the total number of the candidates to 177.
Cong leader joins INLD
Kurukshetra, April 17
The Congress was jolted when Pandit Ram Raj Kaushik, general secretary of the district Congress committee, Kurukshetra, along with his one hundred Brahmin supporters, declared joining of the INLD.
Jhinda not to contest
Karnal, April 17
Haryana Sikh Gurdwara Parbandhak Committee (HSGPC) president Jagdish Singh Jhinda, who had announced to contest the Lok Sabha elections from Karnal as an Independent candidate, today retracted from his stand and said he would not contest the poll but continue to oppose the BSP.
Haji to contest as Independent
Panipat, April 17
In order to voice the concerns of the minority communities in Parliament, Haji Nawab Ahmed has decided to contest the Lok Sabah elections as an Independent candidate.
4 dowry cases registered
Karnal, April 17
Abiding by court orders, the police yesterday registered four cases of dowry in different police stations.
Villagers block highway
Panipat, April 17
A large number of residents of Nara village, where a 26-year-old man was allegedly kidnapped and later murdered the previous night, today again blocked the Panipat-Safidon highway till late in the afternoon in protest against police "inaction" in arresting the accused.