Village sans power for week
Residents allege staff demand money
Sunit Dhawan
Tribune News Service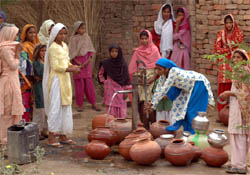 Women and girls of Sakras village in Nuh fetch water from a handpump on Thursday. Tribune photo: Sayeed Ahmed
Sakras (Nuh), April 16
The jittery residents of Sakras village, who have been facing a blackout and various related hardships for almost a week now, do not know which door to knock at. The electricity supply to the village, which was cut at 4 pm on April 11, was not restored till the time of filing this report.
While the power officials concerned could not be reached for comments despite repeated attempts, the irate residents alleged that the supply had been cut as the bribe demand of certain power employees had not been fulfilled.
"The local power staff demand money for replacing a damaged transformer and restoring electricity supply, whereas the senior officials do not pay any heed to our repeated requests," said the villagers.
Total power failure, along with acute water shortage, scorching heat during daytime and massive mosquito attacks during nights, have made life hell for the residents.
However, the officials concerned remain shamefully oblivious of the residents' plight. Every resident has a different tale to tell about the indifferent and callous attitude of the power officials towards their difficulties.
"The officials concerned either attribute the week-long power cut to some untraceable fault or simply do not answer our calls," says Mohammed Suleman, a former member of the panchayat.
Mohan Lal, the husband of the village sarpanch, expresses his helplessness in getting the matter resolved.
"The power employees posted here spend their time playing cards...many a time, they are found in an inebriated condition," says Shaad Mohammed, a teacher of the village.
The local shopkeepers and other residents, who gather to air their grievances, allege that the power employees have demanded Rs 1,500 for replacing transformer and restoring the power supply.
Satish Verma, a local trader, points out that the business of the smalltime traders has been affected by the power failure.
"Cashing in on the situation, flour-mill owners have hiked rates for grinding wheat," says Akhtar, another residents. Many residents have started eating boiled wheat instead of getting it ground to flour at exorbitant rates. Mohammed Illyas, an elderly resident, and Altaf Hussain, a practitioner of law, also allege that the power employees demand bribe for carrying out the duties assigned to them.
"It's a recurring problem which surfaces every now and then," said Aas Mohammed, an estate officer with the Wakf Board. He maintains that a permanent solution to the nagging issue be found to rid the residents of multifarious difficulties.
The irked residents have decided to show black flags to the politicians, especially those belonging to the ruling party, who come to the village to seek votes.