Poll scene hots up
Sibal declares fleet of cars in papers
Tribune News Service

Meera Kawariya (BJP)
North West Delhi

Mahabal Mishra (Cong) West Delhi
Assets: Rs 3.73 cr

Ramesh Bidhuri (BJP) South Delhi
Assets: Rs 2.68 cr
Tribune photos: Mukesh Aggarwal,
Manas Ranjan Bhui and Sayeed Ahmed
New Delhi, April 16
Congress candidate from the Chandni Chowk Lok Sabha seat and union science and technology minister Kapil Sibal today filed his nomination papers and declared assets worth Rs 23.94 crore.
His assets have increased by nearly Rs 8 crore in the last five years. They include cash, agricultural and non- agricultural plots, houses, bonds, debentures and shares.
The lawyer-turned-politician has a fleet of luxury cars — a Toyota Corolla, a Hyundai Sonata, an Optra Chevrolet, a Suzuki Jeep and a Reva electric car. He also possesses an Enfield Bullet bike.
Kapil Sibal has deposits, bank investments and debentures worth Rs 90 lakh. He has invested in land and residential properties, the value of which amounts to Rs 14.45 crore.
Sibal owns plots, flats and bungalows in Bangalore, Faridabad, Gurgaon, Ludhiana, Patna, Sikandrabad and Delhi. No case is registered against him.
CM escorts Mishra
Congress candidate from West Delhi Mahabal Mishra filed his nomination papers at the office of Rampura deputy commissioner (DC) today. He declared assets worth Rs 3.73 crore.
Sheila Dikshit, all five MLAs from the constituency and his family members accompanied Mishra to the DC's office.



Sunil Yadav (SP)
Gurgaon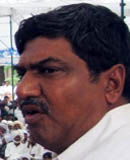 Zakir Hussain (BSP) addresses rally in Gurgaon

Balwant S Agarwal (Independent)
Gurgaon
Goel has no loans
The BJP candidates who filed their nominations today include Vijay Goel, Ramesh Bidhuri and Meera Kawariya from New, South and North West Delhi seats, respectively.
Goel has declared assets worth Rs 2.5 crore. With no bank loans and government dues, he possesses only one car.
His movable assets include Rs 3 lakh cash and other financial instruments worth over Rs 60 lakh. He also possesses jewellery worth Rs 85 lakh.
Bidhuri has case of defamation
Ramesh Bidhuri has declared that he possesses Rs 3.5 lakh cash and properties worth Rs 2.65 crore in his affidavit while filing his nomination papers.
A case of defamation has been registered against him in Kalkaji police station. Former BJP mahila morcha member Maya Devi had registered the case.
Bidhuri has no vehicle but owns a commercial plot in Faridabad and a property worth Rs 1.65 crore in an unauthorised colony of Sangam Vihar.
His family pandit Mithilesh Kumar Sharma advised him to file his nomination today.
Kawariya in Metro
Meera Kawariya boarded a Metro train to go to the DC's office to file her nomination papers. Pravesh Verma, MLAs Kulwant Rana, Manoj Shanker and Jaibhavan Aggarwal accompanied her.
Kawariya said she used the Metro as she believes in conserving petrol.
The Richest One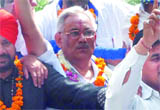 Deepak Bharadwaj (BSP)
BSP candidate from W. Delhi Deepak Bhardwaj is worth Rs 650 cr
Bahujan Samaj Party (BSP) candidate from West Delhi Deepak Bhardwaj who filed nomination papers today has declared assets worth Rs 650 crore. He is one of the richest candidates in the country. He came in a tractor to the DC's office at Rampura. He said his tractor was 10 years old and was precious to him.