Sewa Dal to campaign on phone
Haridwar, April 7
Taking a cue from the strategy of Bharatiya Janata Party during the last parliamentary election, the Sewa Dal, a Congress wing, is making use of information technology to woo the voters.

Sewa Dal Uttarakhand organiser Rajkumari Soni addresses mediapersons in Haridwar on Tuesday. A Tribune photograph

BJP ignoring minorities: Bahuguna
Dehradun, April 7
The Congress today accused the ruling BJP of completely "ignoring" the interests of the minority community and Dalits in the state.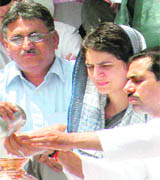 Ashes of Vadra's father immersed into Ganga
Haridwar, April 7
Ashes of the father-in-law of Priyanka Gandhi Vadra, daughter of late Prime Minister Rajiv Gandhi and Congress president Sonia Gandhi, were today immersed in the holy Ganga river. Rajinder Vadra's body was found from his house in South Delhi under suspicious conditions on April 3. He was later cremated at the Lodhi crematorium.


Priyanka along with her husband Robert Vadra performs rituals at Haridwar on Tuesday. A Tribune photograph

Disaster Management
Doctors favour mock drills in hospitals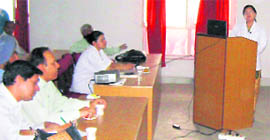 Dehradun, April 7
On the occasion of the World Health Day, an initiative on disaster control was set up in the Shri Mahant Indresh Hospital, here today. A talk was also organised by Medical Education Unit and department of Community Medicine of Shri Guru Ram Rai Medical College.

Dr Roopa Hanspal delivers a lecture at Guru Ram Rai Medical College in Dehradun on World Health Day on Tuesday. A Tribune photograph

Tamil handicraft comes at a heavy price
Dehradun, April 7
At the ongoing craft mela organised by Tamil Nadu Handicraft Development Corporation, an undertaking of Tamilnadu Government in the city, a 6 feet tall wooden sculpture of three-faced lord Ganesha is attracting crowd in for its finesse and distinctiveness. The statue costs whopping Rs. 1.1 lakh.
Shobha Yatra marks Mahavir Jayanti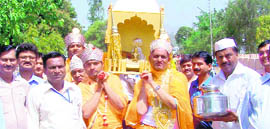 Haridwar, April 7
All major temples were decorated on the occasion of Mahavir Jayanti in the city. Bhajan and cultural programmes were also organised in the city temples.


Devotees take out a procession on Mahavir Jayanti in Haridwar on Tuesday. Tribune photo: Rameshwar

Development
CII must play its role: Joshi
Dehradun, April 7
Governor BL Joshi today said economic development should not be limited to some select areas and must reach the hill areas of the state.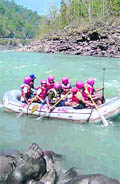 RIMC cadets on adventure trip
Dehradun, April 7
As many as 27 cadets of Class X of Rashtriya Indian Military College (RIMC), accompanied by Balbir Chauhan and Neeraj Negi attended white water rafting on the river Ganges from March 29 to April 2. The course included training for four days and expedition on the last day. The cadets were divided into teams of 4-5 cadets and were introduced to the modern rafts and various other commands of the adventurous sport.


RIMC cadets rafting on the river Ganga. A Tribune photograph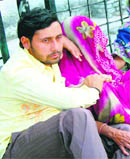 Two youths drown in Ganga canal
Haridwar, April 7
Two youths drowned in Ganga canal while they were trying to cross it, here today. The deceased have been identified as Rahul, a resident of Dhanpura, and Nicky, a resident of Kasabpur in district Meerut of Uttar Pradesh. Rahul and Nicky were on a visit to Mata Chandi Devi temple along with one otheir relative, Amit.

Grieving relatives of the two youths in Haridwar on Tuesday. A Tribune photograph

Hit & Run
Truck driver arrested
Roorkee, April 7
The police has arrested a truck driver, Mohkam, today who had fled away after running over a three-wheeler driver in an accident on April 5 night.
Cricket
Doon to host BCCI camp
Dehradun, April 7
Dehradun will host its first BCCI recognised Center Zone Cricket Camp for Boys u-16 at Abhimanyu Cricket Academy from April 16 to May 22.
ACR, Doon Defence win
Dehradun, April 7
ACR United and Doon Defence Academy won their respective matches at the Khalanga Cricket Tournament, here yesterday.
Mumbai Matadors defeat Cauvery Cheetah
Dehradun, April 7
On the fourth-day of the 2nd ONGC CMD Cup Cricket Tournament being played at the Abhimanyu Cricket Academy Grounds here, Mumbai Matadors defeated Cauvery Cheetahs, here today.