So far, one woman in fray
Dehradun, March 30
Notwithstanding the "decisive" role played by women during the statehood agitation and also the fact that two parliamentary constituencies of Uttarakhand have more women electorate than male, no political party seems interested in fielding woman candidates in the coming general elections.
Harish Rawat hits the road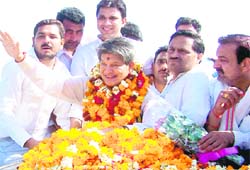 Roorkie/Haridwar/Dehradun, March 30
Harish Rawat, the Congress candidate for the Haridwar Lok Sabha, today started his election campaign by embarking on his first road show in the constituency. He got a good response from party workers and leaders.




Harish Rawat waves during his road show in Haridwar on Monday. Tribune photo:Rameshwar
Poll code hits publicity business
Dehradun, March 30
Election time is generally a boom time for banner wallahs, flex makers and others who prepare publicity materials during polls, but these General Elections are not the same as restrictions on usage of these materials have hit the artists hard.


A local painter paints a banner Tribune photo: Anil P. Rawat
Municipal chief booked for poll code violation
A local ward member's car being used for campaigning impounded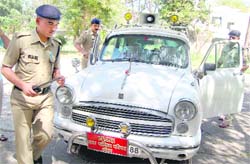 Haridwar, March 30
Haridwar municipal chairman Kamal Johra was booked by the city magistrate for violating the model code of conduct.





Police impound the car of Haridwar municipal chairman Kamal Johra for violating the code of conduct on Monday. A Tribune photograph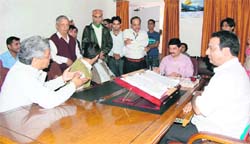 'Ghost' on stage, lights go off
Dehradun, March 30
In a bizarre turn of events, lights went off on the final day of the Natya Samaroh at the municipal corporation hall while the play Ghost, directed by Shirish, was being staged.

A delegation of theatre artistes complain to Mayor Vinod Chamoli against power shutdown during the Natya Samaroh in Dehradun. A Tribune photograph
Join duty or face action, 17 govt doctors warned
Dehradun, March 30
Ignoring the directives of the Uttarakhand Health Department, 17 doctors in the state have not reported for work for the past two years.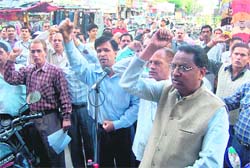 PNB holds protest
Dehradun, March 30
The Punjab National Bank Staff Association has threatened to launch an agitation in case the management goes ahead with the move of outsourcing the security duties by hiring armed guards through service providers.


PNB Staff Association members protest against outsourcing of security personnel in Dehradun on Monday. Tribune photo by Anil P. Rawat
Following crack, experts suggest route change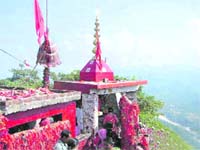 Dehradun, March 30
Following a crack in the rock on which Purnagiri temple in Champawat district is built, scientists from the Indian Institute of Technology (IIT), Roorkee, have suggested to the Champawat administration to make provisions for a temporary change in the route to the temple. The Purnagiri temple is famous for the deity 'Maa Purnagiri' and attracts lakhs of pilgrims from various parts of the country.
Firms evading tax in soup
Dehradun, March 30
The Uttarakhand trade tax department is tightening noose on industrial firms whose manufacturing products outside the state and fraudulently availing tax concessions worth crores under the special industrial package.
MC seals plaza's first floor
Dehradun, March 30
Continuing with its crackdown, the municipal corporation sealed the top floor of RGM Plaza, situated at Chakrata road, for tax evasions to the tune of Rs 7 lakh, here today.
Workshop on child care begins at IMA


Dehradun, March 30
A four-day workshop on Early Childhood Care and Education (ECCE) began at the Indian Military Academy (IMA), here today. Rashmi Sujlana, president Army Wives Welfare Association (AWWA), IMA said, "The workshop aims at 'Training of teachers to prepare the child for primary education, schooling and holistic development of the Child."
Rashmi Sujlana, president AWWA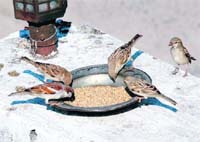 Gurukul team on sparrow cause
Dehradun, March 30
Amidst fears of the Indian house sparrow fast slipping into oblivion, there have been some steps by Gurkul Kangri University scientists in Haridwar towards restoration of their habitat.

Scientists put up 383 nests at residential areas of BHEL, Shivpuri and adjoining areas. Sixty per cent were occupied by sparrows and the rest by other birds
Haridwar policemen donate blood
Haridwar, March 30
Haridwar police donated blood at the blood donation camp held, here today. The camp was held at Roshanabad police headquarters on the insistence of SSP Sanjay Gunjiyal and large participation of the cops made the camp successful.
8-wicket victory for LIC; Navneet, Sarul smash 73 runs each
Dehradun, March 30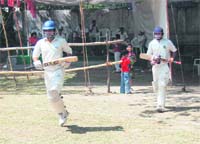 LIC from Chandigarh registered an eight-wicket victory over HMV Sports from Delhi at the 2nd Uttarakhand Cup at Ranger Ground here today.






LIC team's opener batsman, enters the field during 2nd Uttarakhand Cup in Dehradun on Monday. Tribune photo by Anil P. Rawat