...Meanwhile, wildlife trust to the rescue
Dehradun, March 29
While the Uttarakhand government is still struggling to come up with rescue and rehabilitation centres for wild animals, the Wildlife Trust of India (WTI) through the means of mobile veterinary service (MVS) unit has been doing a yeoman service in rescue and relief operations for many years.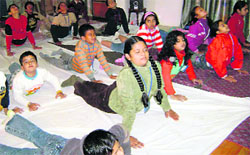 Art of Living helps reduce aggression in kids
Dehradun, Mar 29
The Art of Living guru Shri Shri Ravi Shankar started preaching Art of Living courses, and helping those who are caught up in the stress full environment at home, work or due to any other reason.

Children participate in Art of Living camp in Dehradun. A Tribune photograph

Cong high command placates big shots
Dehradun, March 29
All four satraps of the Uttarakhand Congress have finally been adjusted by the party high command for the Lok Sabha polls.
City joins Earth Hour campaign
Dehradun, March 29
As a part of the Earth Hour campaign initiated by WWF-India, a global campaign to sensitise people about the threat of climate change, all major establishments and even residential areas in the city turned off their lights on Saturday to express their solidarity with the campaign.
Ace shooter Rathore wants more ranges
Dehradun, March 29
Athens Olympic silver medallist Raj Vardhan Singh Rathore, despite his poor show at 2008 Beijing Olympics, has no plans to retire from active shooting. The ace shooter rather exudes confidence of better performance in the days to come as he asserts he is totally focused on sport. Rathore was in Dehradun today in a public engagement.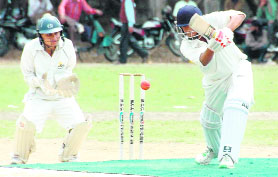 HMV thump RKCA by 116 runs
Dehradun, March 29
HMV team from Delhi registered 116 run victory over Raj Kumari Cricket Academy (RKCA) Bulandshahar at the 2nd Uttarakhand Cup Tournament at Rangers College, here today.


A batsman hits a shot at the 2nd Uttarakhand Cup in Dehradun on Sunday. A Tribune photograph

Congress bankrupt of ideas, says Giri
Dehradun, March 29
Swami Yatendranand Giri, Bharatiya Janata Party (BJP) candidate for Haridwar Lok Sabha seat, today launched a scathing attack on the Congress for its failure to find a local candidate from the seat.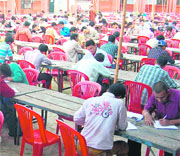 Pupils take exams under shamianas
Dehradun, March 29
It looked like a carnival with tents erected and tables laid by tent wallahs. But these were erected at Government Degree College, Rishikesh, for use as examination hall for those appearing for degree courses run by Hemwati Nandan Garhwal University, Srinagar.
Students of Government Degree College, Rishikesh, give their exams under tents raised for them. A Tribune photograph

Truck union elects new head
Haridwar, March 29
The New Panchpuri Truck Association (NPTAH) has elected its new head Gulzar Nayak unanimously.
Guv interacts with ST students

Dehradun, March 29
Uttarakhand Governor BL Joshi today visited the Indian Information Technology Institute for Scheduled Tribes at Jhanjara here. He interacted with the tribal students at the institute.
Uttarakhand Governor BL Joshi during his visit to the Indian Information Technology Institute for Scheduled Tribes near Dehradun on Sunday. A Tribune photograph

Firing In Air
EC may act against RSS workers
Dehradun, March 29
Election and district officials of Udham Singh Nagar are contemplating action against some workers of the Rashtriya Swayam Sewak Sangh (RSS) for firing in air and display of arms at their function two days ago.
Institutes help students explore career options
Dehradun, March 29
Career Launcher (CL) institute organised a seminar on career option, here today. The seminar dealt with large number of students who are interested in pursuing BBA, BCA, Law, fashion designing, hotel management, and mass communication courses.