Rawat seeks divine help
Haridwar, March 31
With the Samajwadi Party candidate from Haridwar Lok Sabha seat Ambrish Kumar raking up the "hill-plain" divide, the Congress has tried to play it down. Harish Rawat, Congress candidate for the Haridwar seat, dismissed the divide and said that the common man has had no problem in being together and living happily since the past nine years after the state was formed.
Mainly, it's bipolar contest in state
Dehradun, March 31
Eight years after its formation, the hill state of Uttarakhand is all set to witness another bi-polar contest in the general elections. Going by the past records, out of the five parliamentary constituencies in the state, Tehri, Pauri, Almora and Nainital, had mainly witnessed a contest between two main political parties - the Congress and BJP.
Viplove to hold meetings on April 6, 7
Dehradun, March 31
Rajya Sabha member Viplove Thakur, who is Congress election incharge for Uttarakhand, will convene a series of meetings with Congress leaders and party workers in the first week of April.
Hindu Mahasabha to go it alone
Haridwar, March 31
The Akhil Bharatiya Hindu Mahasabha (ABHM) has decided to field candidates for all five parliamentary seats in Uttarakhand. The mahasabha was formed by Pandit Madan Mohan Malviya and to make the mahasabha stronger, the party has decided to contest the parliamentary elections on its own.
Poll code: So far, 30 notices
Dehradun, March 31
The district election office seems to be pro-active mode as it has so far issued 30 notices to political parties, the state and Central government offices for violation of the model code of conduct.
Maharaj takes on BJP government on development
Dehradun, March 31
Former union minister and Congress candidate for Pauri Garhwal constituency Satpal Maharaj started his election campaign by addressing public meetings at various places in his constituency.
After surgery, CM to return today
Dehradun, March 31
Uttarakhand Chief Minister Maj Gen BC Khanduri (retd), who underwent surgery at Apollo Hospital, New Delhi, for removal of stones and was convalescing at his Delhi residence, will return to Dehradun tomorrow.
Ayurveda pupils lock college gates over poor results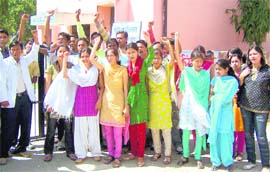 Haridwar, March 31
Students of ayurvedic medical colleges locked the gates of the Ayurvedic Medical College, Gurukul and Ayurvedic Medical College, Rishikul, here today to mark their protest.

Medical students of Gurukul Ayurvedic College and Rishikul Ayurvedic in Haridwar boycott OPD on Tuesday to mark their protest. A Tribune photograph
Dental Bhawan at Raipur
Dehradun, March 31
To give an impetus to dental and oral healthcare in the state, the local branch of the Indian Dental Association has established Dental Bhawan at Raipur. It is the association's first dental centre in the country that will carry out dental and oral health-related programmes for the people of Uttarakhand.
Protest over hotel bar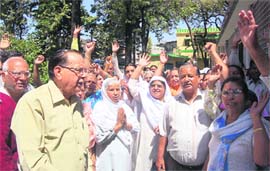 Dehradun, March 31
Residents near Lakshman Chowk have resented the approval of licence of a bar at Hotel Doon Place stating that the locality has a religious institution. A liquor bar in the locality would have adverse impact on us, allege residents.


Residents of Laxman Chowk hold protest. A Tribune photograph

Gush Cricket Club thump Tanush Academy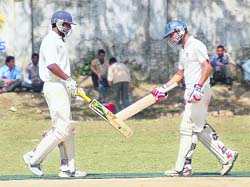 Dehradun, March 31
Superb century by Ankur Julka helped Gush Cricket Club, New Delhi register a thumping 156 runs victory over Tanush Cricket Academy at the 2nd Uttarakhand Cup, here today. It was an excellent batting display by Gush Cricket Club batsmen who scored a mammoth total of 310 runs in allotted 40 overs.
Arshad and Mandeep of Tanush Cricket Academy during the 2nd Uttarakhand Cricket Cup in Dehradun on Tuesday. Tribune photo by Anil P. Rawat
32 teams to participate in dist cricket tourney
Dehradun, March 31
Various Panchayats of the city will participate in the first district level day and night cricket tournament which is scheduled to be held at the Raipur block area from April 2. Khalinga Cricket Association (KCA) is organising the tournament. This is the first time that a cricket tournament focused on rural areas here.
Basketball calendar
Dehradun, March 31
The District Basketball Association has announced its sports calendar for 2009-10. This announcement was made by Vinod Vachani, secretary of the association.
Declare Dixit report before April 9: Commission
Dehradun, March 31
The Uttarakhand State Information Commission (SIC) has directed the state government to release the report of the committee tasked with selecting a permanent capital for the hill state before April 9.
Leopard attacks woman
Dehradun, March 31
A woman, on her way to collect fodder in the Bansiwala area on the outskirts of Dehradun city, was attacked by a leopard on Monday. According to forest sources, Kunti Devi (40) a resident of Bansiwala, had gone to gather fodder to the nearby forest area when she was attacked by a leopard.