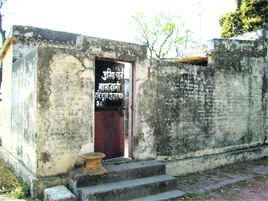 Police post in a shambles
Balawali, April 5
As the Lok Sabha elections draw near, every political party is harping on development issues. But the pathetic condition of a police chowki at Uttaranchal-UP border at Dumenpuri village, around 50 kms from Roorkee, is enough to show the lack of development here.
The Balawali police post at the Uttaranchal-UP border. A Tribune photograph
Doon leads the way in Antarctica research
Dehradun, April 5
The contribution of science institutions in Dehradun in the country's quest about Antarctica has been immense. As many as 40 persons from various institutions in the city have been part of expeditions to icy continent with four to five persons getting an opportunity as a member of an expedition every year.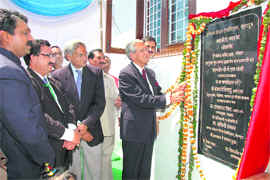 Uttarakhand Governor BL Joshi inaugurates the building of the Dehradun chapter of Indian Dental Association on Sunday. A Tribune photograph

Infer No, Rangers triumph
Dehradun, April 5
Infer No DIT and SIR Rangers won their respective matches at the day-night Khalanga Cricket Tournament at Tapowan here today.
Karan repeats golden feat
Dehradun, April 4
Uttarakhand's Karan Walia left his mark by winning gold for the second time in a row at the nationally acclaimed dressage horse riding competition in Delhi at the recently concluded Delhi Horse Show.
Governor opens Dental Bhawan
Dehradun, April 5
Uttarakhand Governor BL Joshi today inaugurated Dental Bhawan of the Indian Dental Association, Dehradun Chapter, at Kiduwala, Raipur.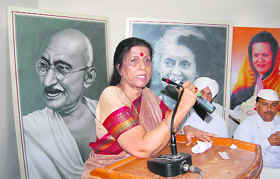 Cong now says industrial package till 2013
Dehradun, April 5
Former minister and Congress election incharge for the five parliamentary constituencies of Uttarakhand Indira Hariydesh has said if the Congress forms the next government at the Centre, efforts will be made to extend of industrial package of Uttarakhand till 2013.
State Congress election campaign committee chief Indira Hariydesh addresses a gathering in Dehradun
on Sunday. A Tribune photograph
Poll delays state games
Dehradun, April 5
The Uttarakhand State Games, which were proposed for May, could be delayed due to the forthcoming Lok Sabha elections.
Somnath in Rishikesh, writing book
Haridwar, April 5
It seems queer that Somnath Chatterjee, a politician who has to his credit a record of winning 10 Lok Sabha elections, is not involved in the current poll preparations, but is instead enjoying the serene environs of Rishikesh and Haridwar.
Student raped by watchman
Haridwar, April 5
A student of Class VI in a missionary school was raped by the school watchman at Loki colony in Lakshar area a few days ago. The matter came to light today when the girl's mother returned from Delhi and the girl narrated the incident.
Revenue clerk nabbed taking bribe
Roorkee, April 5
A revenue clerk was nabbed accepting bribe from a farmer at the local bus stand by the Vigilance Department.
Finally, Nano on display
Dehradun, April 5
Finally, the world's cheapest car Nano was put on display at the Oberoi Motors Majra, here this morning.
DGP reviews poll preparations
Dehradun, April 5
DGP Subhash Joshi today convened a meeting to review the preparations for the upcoming Lok Sabha elections.
Assam Aragons win
Dehradun, April 5
On the second day of the IInd ONGC CMD Cup cricket tournament being played at the Abhimanyu Cricket Academy Grounds, Assam Aragons defeated Cauvery Cheetahs by seven wickets.
Raphael centre completes 50 years
Dehradun, April 5
A colourful programme was held to mark the golden jubilee celebrations of Raphael Ryder Cheshire International Centre here today.
Auto driver killed in accident
Roorkee, April 5
Mohsin, a 35-year-old three-wheeler driver, was killed in an accident which took place on Delhi-Haridwar highway here last night.
Saurav beats Varun, bags tennis title
Dehradun, April 5
Saurav has won the Uttarakhand State Open Men's Tennis Tournament that concluded at Shanti Tennis Academy here today. In the final, Saurav outclassed Varun Walia in straight sets 6-3, 7-6 to lift the title.
Visitors' deluge at Corbett
Dehradun, April 5
With summers picking up, a sudden rush of tourists was witnessed at Corbett National Park this weekend, leading to commotion at the main reception.