This summer, repair your skin with sun tan creams
Divya Semwal
Tribune news service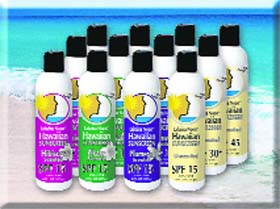 Dehradun, April 1
Since the summers are here, people are buying a wide range of cosmetics for protecting their skin and hair from harmful sunrays.
There are varieties of sunscreens, sun blocks, sun tan packs and creams available in the market to keep oneself protected during scorching summers.
"We have got diamond, gold and pearl facials to repair skin against the sun damage. We have Lotus, Shenaz Hussains and Boutique's sunscreens and tan face packs," said Puneeta, a beauty advisor.
Where tan face packs by VLCC and Lotus are really in demand, international brands such a Neutrogena and St.ives are also preferred by lot of customers.
Revlon has launched its Pure White range, Pure Skin range and Absolute C, which contain vitamin C and various others ingredients required for healthy and supple skin.
Sales of tan packs and creams have suddenly picked up as people don't have time to visit saloons and moreover these products are effective.
For hair care, water based shampoos of Boutique, Loreal and Avon are available in fruity and refreshing fragrances to maintain the PH level of hair," said Puneeta.
Various saloons and laser clinics are offering packages and schemes to people to get rid of unwanted problems. "Yes, lot of variety in cosmetics is there for getting rid of sun tanning.
"But people who are suffering from freckles and pigmentation have to take regular sittings of latest treatments introduced for freckles and pigmentation in laser clinics," said Javed, owner, JVCC lounge.
For summers we have introduced anti-tan facials, fruit facials and gel-based facials. For hair, we have hair spa treatments and hydra treatments to get rid of dryness and split ends," said Deepa, beauty in charge, JVCC lounge.
Dehradun being located at a higher altitude, have large number of people who suffer pigmentation and allergies caused by sun.
"As compared to any other season, people suffer pigmentation, malasma and polymorphic (sun allergies) more in summers. Now, with lot of exposure and awareness people are taking keen interest in getting solutions to their beauty problems," said Dr. Jyoti Malik, a dermatologist.
"One should regularly use sunscreen that contains SPF 30, drink lots of water and must take vegetables rich in vitamin A and E, which contains sun defensive elements.
Treatments like chemical peelings, micro-derma avarasion and skin lighting treatments also bring lot of difference to the skin without any detrimental side effects apart from redness for a day," said Dr. Jyoti.