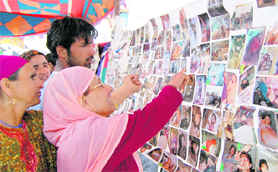 People scan the pictures of victims killed during the 20-year turmoil outside the shrine of Sufi Saint Sheikh Dawood on his 360th death anniversary in Srinagar on Tuesday. Tribune photo

Shifting of Security camps
Khaigam deadline extended till April 30
Srinagar, April 21
Coordination committee of Khaigam in Pulwama district of south Kashmir has agreed upon extending the deadline of an en masse migration till April 30, failing which the villagers would move out of the village in protest.
Farmers rue absence of procurement
RS Pura, April 21 Due to laid back attitude of the Food Corporation of India (FCI) and other state agencies in setting up infrastructure for the procurement of farm produce, farmers here have been finding conventional agriculture as non-profitable business. Consequently, they have started exploring other options for earning livelihood.
Defacement goes unchecked in city
Jammu, April 21
Though various political parties in the region are indulged in the violation of the Public Property Act, now the coaching institutes have joined them in defacing the city walls openly.
NC creating fear psychosis: Mufti
Srinagar, April 21
PDP patron and former Chief Minister Mufti Mohammad Sayeed has alleged that the NC-led coalition government was deliberately promoting an atmosphere of fear and uncertainty to discourage people from participating in the Lok Sabha elections.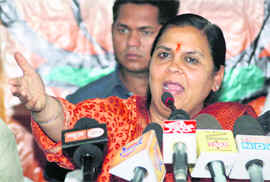 Uma Bharti campaigns for Nirmal Singh
Jammu, April 21
Former Union Minister and president of the Bhartiya Janshakti Party Uma Bharti was here in Jammu to campaign for BJP candidate for the Doda-Udhampur seat Dr Nirmal Singh today.
Bharatiya Janshakti Party president Uma Bharti stresses a point at a press conference in Jammu on Tuesday. Photo: Inderjeet Singh

Indus Waters
CPM seeks review of treaty
Srinagar, April 21
CPM state secretary and MLA, Kulgam, Mohammad Yusuf Tarigami has sought to review the Indus Water Treaty between India and Pakistan as the state had been unable to harness the full hydel potential.
Seminar on climate change begins
Leh, April 21
A four-day-long international seminar on "Energy and Climate Change in the Cold Regions" organised by France based NGO, Geres, with the support of the European union has begun from today in Leh.
Two chain-snatchers held
Jammu, April 21
While incidents of chain snatching and vehicle lifting have become a routine affair in winter capital Jammu, the arrest of two notorious chain-snatchers from Satwari has provided a great relief to the inhabitants of the Gandhi Nagar, Trikuta Nagar and Satwari areas.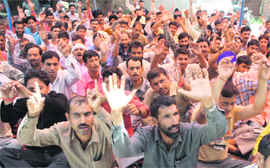 Daily-wage PDD staff protest
Jammu, April 21
The daily wagers of the state Power Development Department (PDD) today held a peaceful protest demonstration outside the office of the chief engineer, maintenance and repair wing.
Daily-wage employees of the Power Development Department protest outside the chief engineer's office in Jammu on Tuesday. Photo: Inderjeet Singh

Sale of cooling gadgets up as mercury soars
Jammu, April 21
With the soaring of temperature in Jammu, sale of fans, desert coolers and air conditioners has increased.
Tanker drivers trained in fire-fighting
Srinagar, April 21
A disaster management training programme for oil-tanker drivers of Bharat Pertroleum was organised at BPCL Oil Depot at Sempore Panthachowk yesterday.
Minister pays surprise visit to hospital
Jammu, April 21
Minister for Health Sham Lal Sharma today paid a surprise visit to Government Hospital, Gandhi Nagar, to take stock of the facilities available there.
BJP legislator's car impounded
Jammu, April 21
Police has impounded an official vehicle of sitting BJP legislator and former union minister Chaman Lal Gupta for violating the model code of conduct in an election rally in Bhaderwah.
Forest employee ends life
Jammu, April 21
Fed up with his prolonged kidney ailment, a senior assistant in state Forest Department committed suicide allegedly by shooting himself with his licensed gun in the Domana area, police sources said today.
Sagar lashes out at PDP
Srinagar, April 21
NC leader and Minister for Rural Development Ali Mohammad Sagar said it had been the party stand that the Kashmir issue can be resolved only through talks.
Man arrested for raping daughter-in-law
Jammu, April 21
The police today arrested a middle-aged man, who allegedly raped his maternal daughter-in-law during a marriage ceremony at Shiba village in the Nagrota area on April 19.
Hideout destroyed in Kupwara
Srinagar, April 21
The police has destroyed a militant hideout near Shalora vollage at Kralpora in Kupwara district.