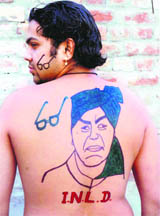 An INLD supporter displays his loyalty in Sirsa. Photo: Amit Soni
School board results today
Bhiwani, April 29
The results of secondary and senior secondary (academic and vocational) examinations of the Board of School Education, Haryana, held in February, will be declared tomorrow.
Cops beat up villagers ahead of Rahul's visit
Nuh (Mewat), April 29
Ahead of Congress general secretary Rahul Gandhi's visit here, the police allegedly beat up women and children citing security reasons.
I've come to liberate you from fear: Hooda
Sirsa/Fatehabad, April 29
Chief Minister Bhupinder Singh Hooda's "Vijay Rath" arrived in Sirsa last evening after covering the Samain, Tohana, Ratia, Kulan, Panihari and Neja Dela areas of the Sirsa seat. Hooda addressed people who had gathered on the way to his journey and sought votes for Congress nominee Ashok Tanwar.
Flays INLD-BJP alliance
Julana (Jind), April 29
Chief Minister Bhupinder Singh Hooda has asked the people to think before casting their vote in the elections. Describing the BJP-INLD an unholy nexus, he said both parties had gone for it for just to survive as the masses had rejected them.
Poll Expenditure
8 candidates fail to submit details, warned
Gurgaon, April 29
The election observers appointed in the Gurgaon parliamentary constituency have taken a serious note of the fact that several Lok Sabha aspirants have not submitted the details of their poll expenditure within the stipulated time despite specific directions.
Speaker's 'subtle' message
Chandigarh, April 29
To maintain constitutional propriety, and to still seek votes for the Congress, of which he is a member, Speaker of the Haryana Assembly Raghuvir Singh Kadian is campaigning in his own way.
SC stay in Haryana land case
Chandigarh, April 29
The Apex Court has granted stay on further proceedings in one of acquired land release cases. The matter pertains to several districts, including Gurgaon, Panipat and Sonepat.
Two girls abducted
Rewari, April 29
Two cases of abduction of teenage girls have been reported from various villages of the district. A 19-year-old girl of Pali village was enticed away allegedly by Rattan Singh Yadav of Nangal Mundi village, on April 21.
Sarpanch's murder: 3 held
Sonepat, April 29
The police has arrested three persons - brothers Fateh Singh and Madan Lal and Fateh Singh's son Jasbir - of Raipur village for their alleged involvement in the murder of village Sarpanch Sanjay on April 26. They were produced in a court today and remanded in police custody.