PM to campaign for Mahabal today
New Delhi, May 2
Prime Minister Manmohan Singh will address a rally at Hari Nagar tomorrow in West Delhi in support of Congress candidate Mahabal Mishra. This constituency is a Punjabi and Sikh-dominated area. To make a dent in the votes of BJP candidate Jagdish Mukhi, the Prime Minister would address the rally.
3,600 security personnel for poll
Gurgaon, May 2
Nearly 3,600 police and Home Guard personnel will be deployed to ensure free, fair and peaceful polling in the district. As many as 16 barriers, each with 12 policemen of different ranks, will be installed at the sensitive points in the district to check the activities of anti-social elements on the day of polling.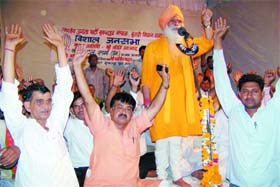 BJP's North East Delhi candidate B. L. Sharma 'Prem' at a rally in New Delhi's Burari on Friday night. Tribune photo
Panthers man gets Rs 2.53 lakh from people for canvassing
New Delhi, May 2
Jammu and Kashmir Panthers Party's candidate from New Delhi Lok Sabha constituency Harsh Malhotra is confident about his victory, as he has received immense support in the form of public money.
Agarwal bats for girl child
New Delhi, May 2
The Congress' face from the North-East Delhi parliamentary segment, J P Agarwal today zeroed in on universal education and girl-child empowerment during his door-to-door campaigning sessions across Gautampuri, Jyotinagar, Yamuna Vihar, Jafrabad etc.
Fee Hike: Parents get lawyers' support
Noida, May 2
The Gautam Budh Nagar Bar Association has decided to support parents in their struggle against the hike in fees by private schools. The decision was taken in a meeting held over the issue recently. Over 600 advocates attended the said meeting.
10-yr-old dies of diarrhoea
GB Nagar, Bulandshahr in grip of diarrhoea, brain fever, chickenpox
Greater Noida, May 2
Many villages and towns in Gautam Budh Nagar and Bulandshahr are, reportedly, in the grip of diarrhoea, brain fever and chickenpox. On Thursday a 10-year-old boy, Jatin, of Nangla Shappur in Jahangirpur died of fever and diarrhoea.
Dip in temp predicted
New Delhi, May 2
Delhiites may experience dusty winds and thunderstorms tomorrow. According to the Met department, the temperature might dip to 40° Celsius tomorrow. While the minimum temperature will be around 28° Celsius.
Chetan assures statehood
New Delhi, May 2
BJP candidate from East Delhi Chetan Chauhan on Friday held an open session with RWA representatives. The session 'Aamne-Samne' was organised at Mayur Vihar Phase-III RWA.
Sacked staffer cheats bank, customers, held
New Delhi, May 2
The Ambedkar Nagar police today arrested a man, who was recently given pink slip by the bank where he worked due to recession, and his friend for allegedly cheating the bank and its customers.
US embassy ex-staffer caught for cheating
New Delhi, May 2
A former employee of the US embassy here has been arrested for duping people by promising them jobs with the embassy.
Land scam accused's cars released
New Delhi, May 2
A Delhi court today ordered a conditional release of five luxury cars owned by Ashok Malhotra, the alleged mastermind of the multimillion-land scam in the capital.