Sanskrit, Chinese varsities sign MOU
Haridwar, May 3
Shantikunj's Dev Sanskriti Vishwa Vidyalaya (DSVV), which imparts moral and technological education to many Indian and foreign students also.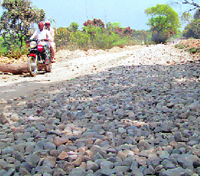 Killer Stretch
A fortnight ago, a motorcyclist lost
his life after losing balance on the
six-km stony stretch
A year gone, road still
under construction
Landoura, May 3
Slow pace of work and unprofessional
approach of authorities towards laying
Landoura-Manglore road has been causing
serious inconvenience to the public.

The under-construction Landoura-Manglore road. A Tribune photograph

No question of backing Cong, says Left leader
Dehradun, May 3
The Communist Party of India (Marxist) Polit Bureau member MK Pandhe today came down heavily on the Union government for "ignoring" the hill state.
Centre did not give royalty for developing Tehri: Khanduri
Dehradun, May 3
The war of words between the Bharatiya Janata Party (BJP) state government and the Congress-led United Progressive Alliance (UPA) Central government has become more pronounced.

In Haridwar, Shahzad does plain(s) talk
Haridwar, May 3
Addressing his maiden press conference here today,
Mohammed Shahzad, Bahujan Samaj Party candidate
from Haridwar, said people of the plains of Haridwar
should vote for those who cater to their needs;
otherwise they would remain neglected.
SP looks to star power
Haridwar, May 3
In a bid to retain the prestigious Haridwar seat, Samajwadi Party is banking heavily on its star campaigners, including SP general secretary Amar Singh and Bhojpuri filmstar Manoj Tiwari. Both of them are scheduled to address public rallies soon.
No fissures in BJP, claims Koshiyari
Haridwar, May 3
Bhagat Singh Koshiyari, former Chief Minister and Rajya Sabha member, who was here to campaign for the BJP candidate, today admitted that freeing of terrorists in the Kandhar hijack case was a blot on the otherwise sparkling career of BJP Prime Ministerial candidate LK Advani.
Shortage of epilepsy drugs, says doctor
Dehradun, May 3
A large number of patients suffering from various mental disorders were identified and given treatment at the camp held at the State Mental Health Institute, Selakui.
Jal Sansthan bans 'tulu' pumps
Dehradun, May 3
To normalise water supply in the city, the assistant engineers of Jal Sansthan have been entrusted with the responsibility of maintaining vigil at the key water supply sources. They have also been withdrawn from the election duties as well.
State seeks ITBP help to curb forest fires
Dehradun, May 3
The state authorities have decided to seek assistance from Indo-Tibetan Border Police (ITBP) force for curbing ranging forest fires in the state hills.
Safety gears not so popular with skaters
Dehradun, May 3
Roller-skating is high on popularity but safety norms are not being followed. Even the organisers of skating competition here are ignoring these norms.
Asian School is over-all skating champ
Dehradun, May 3
Asian School won the over-all trophy at the 12th District Inter-School Roller Skating Championship that concluded, here today.


Who'll educate the educated?
Though it is mandatory to wear helmet while riding two-wheelers,
Tribune lensman Anil P. Rawat caught some city residents openly
flouting road safety norms. The law-enforcing authorities need
to strictly implement the law for the benefit of the citizens.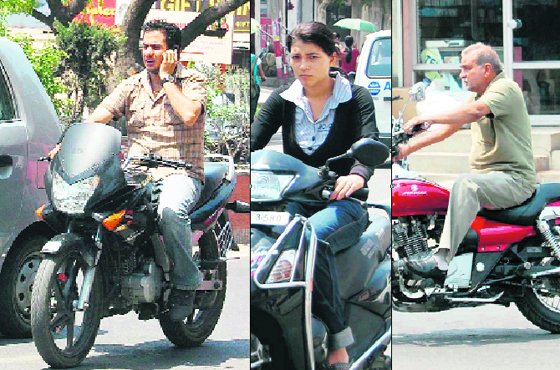 The young and old alike flout road safety rules while riding two-wheelers in Dehradun.