Willing to share Nano details with Rawat, says CM
Dehradun, April 28
Chief Minister BC Khanduri has refuted the allegation by the Congress that Nano project was shifted to Gujarat from Uttarakhand under pressure from senior Bharatiya Janata Party (BJP) leader LK Advani and Gujarat Chief Minister Narendra Modi. Reacting to allegations levelled by Congress candidate from Haridwar seat Harish Rawat, the CM said senior Congress leaders should refrain from making baseless allegations.
Canvassing in Army uniform irks BJP
Dehradun, April 28
A former Congress minister's bid to attract the votes of ex-servicemen and serving defence personnel has irked the Bharatiya Janata Party (BJP) leaders. Notably, with Maj. Gen. BC Khanduri (retd) as the Chief Minister and Lt. Gen. TPS Rawat (retd) contesting from Pauri Garhwal, BJP has remained a front-runner in getting the support of ex-servicemen in the past.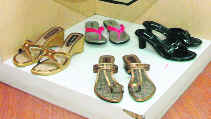 Time to put your best foot forward
Dehradun, April 28
Grilling summers give everybody a chance to flaunt light and comfortable footwear. The city markets are flooded with an array of footwear offering variety that suits every budget.

Osho chappals, which got their name after spiritual guru Osho, are comfortable, chic and are available in all shades. These chappals are the latest craze in market
Voters in high spirits, literally
Dehradun, April 28
Ahead of the Lok Sabha elections, Bacchus lovers are in high spirits, with liquor flowing liberally into Uttarakhand.
Framboxx ties up with Seneca College
Dehradun, April 28
Frameboxx, a versatile conglomerate with pioneering services in the animation and visual effects training market, today announced its tie up with Seneca College of applied arts and technology.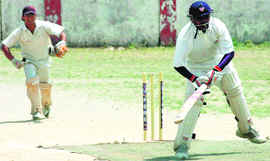 T20: Delhi, U'khand win
Dehradun, April 28
Teams from Delhi and Uttarakhand won their respective matches at the ongoing T20 Hukum Singh Memorial Cricket Tournament at the Survey Stadium, here today.
Players in action at Hukum Singh Memorial T-20 Cricket Tournament in Dehradun, on Tuesday. Tribune photo: Vinod Pundir

Security up in Gujjar, Muslim areas
Roorkee, April 28
It seems that the police will face a tough challenge in making sure that polls in Gujjar-dominated areas in Roorkee region are held peacefully. A number of 'highly sensitive' polling centres have been earmarked in these areas.
Welham's Girls' b'ball tourney begins today
Dehradun, April 28
The 3rd Welham Girls' School All-India Golden Jubilee Basketball Tournament would commence at Welham Girls School from Wednesday. Eight teams will participate in the tournament.
Gardner tourney: Carman, St Jude's triumph
Dehradun, April 28
Carman School, St Jude's School Brooklyn School and Carman School won their respective matches at 14th Gardner Inter-School Indoor Cricket Tournament, here today.
Khanduri addresses rally over phone
Dehradun, April 28
Amid bad weather conditions in Rudrpur, Chief Minister BC Khanduri found an innovative way not to skip the election rally, here yesterday.
Winners awarded at KV annual day
Dehradun, April 28
Kendriya Vidyalaya, (Ordnance Factory) celebrated its annual day, here today. The function started with the chief guest general manager Ordnance Factory, Arun Khanwalkar lighting the lamp.
Soon, work at SKF's Haridwar plant
Mumbai, April 28
Bearings maker SKF India yesterday said it had begun construction work for its new manufacturing plant at Haridwar and would start operations in the next eight months.
Labourer's wife has no money for surgery
Dehradun, April 28
Twenty-four-year-old Saloni, wife of a labourer here, is battling it out for her life. A resident of Chandernagar, Saloni has one of her heart valve non-functional and needs to be operated urgently.
Gangotri, Yamunotri opened for devotees
Dehradun, April 28
Revered Hindu shrines Gangotri and Yamunotri were thrown open on the occasion of Akshya Tritya.