ART & LITERATURE
'ART & SOUL
ENTERTAINMENT
TELEVISION
GARDEN LIFE
NATURE
FOOD TALK
CONSUMER, BEWARE!
FASHION
HOLLYWOOD HUES
BRIDGE
ULTA-PULTA
EARLIER FEATURE
TRAVEL
RELATIONSHIPS
DREAM THEME
TIME OFF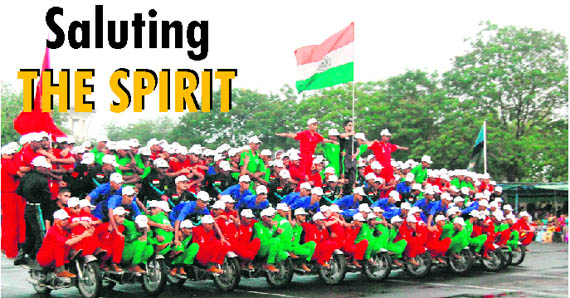 The Limca Book of Records has been chronicling human endeavour for the past 20 years. Usha Rai writes about some unusal records and record makers
WHEN the Limca Book of Records turned 20 last month, the invitations sent out were as refreshingly different as the bounteous collection of unusual records mentioned in the book.
Sacred teachings
In Kanya Gurukul, located at Panchgaon, a small village near Bhiwani, girls are given knowledge from the Upanishads and the Vedas, says Dev Brat Vashisth
Bhiwani has the privilege to be called 'Mathura of Haryana' as there are more then 350 temples in and around this district. It also has two gurukuls—one each for girls and boys. The boys' gurukul is in Bhiwani city and the gurukul for girls called Kanya Gurukul is at Panchgaon, a tiny and sleepy village, 40 km from Bhiwani.
On peace mission
Women social activists in Orissa's strife-torn Kandhamal district have not only challenged fundamentalists but also encouraged people from all communities to work towards maintaining harmony, writes Eliza Parija
ONE morning I heard a knock on the door. When I opened it, I saw a group of men holding swords behind them. They started threatening me. They asked me why, despite being the daughter of a Hindu, I was not 'participating' in the attack against Christians," recalls Laxmi Priya Parida (34) from Bramunigaon, a village located in Orissa's strife-torn Kandhamal district.
A road less travelled
H. Kishie Singh goes driving on a Raid de Himalaya route to check what attracts these adventurers
A long and winding road, covered with snow, bright blue skies providing a backdrop to the snow-clad mountains, and cool crisp air can provide a heavenly platter to an adventure lover. The icing on the cake (or snow) would be an open Gypsy crunching through virgin snow in a four-wheel drive.
Designed to please
The changing fashion scene today depends on what designers make for
international celebrities, writes Vimla Patil
IT's a great high for anyone to be called a trendsetter, says designer Nikasha Vaid. It immediately puts that person in a leadership position and paints a shining aura of popularity, beauty, success and smartness around him or her.
Puzzling permutations
Thirty-five years after inventing the mind-boggling cube, Hungarian Professor Erno Rubik has come out with yet another puzzle that is equally maddening and hard to solve, writes Gyan Marwah
FOR those who like to unravel puzzles, the Rubik's Cube has posed an intense challenge for over three decades. In 1977 when Erno Rubik, a Hungarian sculptor and professor of architecture, first introduced the Magic Cube (as it was then called), it mesmerised the world completely. People of all age groups began pitting themselves against this brainteaser that not just stretched their logic skills but was also a supreme test of patience.
From writers to directors
After spinning magic with their pen, many Bollywood writers are wielding
the megaphone, says Robin Bansal
THEY have penned stories that have drawn crowds to theatres and dialogues that got etched in people's memory. Hindi film writers like Anurag Kashyap and Imtiaz Ali are among an increasing number of those who have also carved a niche for themselves as directors after spinning magic with their words.
'I don't want to play a college girl'
Preity Zinta talks to Sreya Basu about the current agendas of her life
Films, IPL, sponsoring 34 poor girls ... is that what you call 'branching out'?
I have always lived life the way I wanted to. I like to do things that are different and excite me. And yes, in your words, I am really branching out and I'm loving it.