50-hour Hurriyat bandh begins
Srinagar, May 11
As the campaign for the last phase of Lok sabha elections ended, the 50-hour bandh called by hard line APHC leader Syed Ali Geelani began across the valley this evening.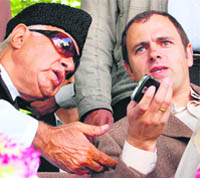 Omar seeks votes on stability plank
Srinagar, May 11
Chief Minister Omar Abdullah has said votes for the NC means votes for the political and economical stability of the state and strengthening secular democratic forces led by Prime Minister Manmohan Singh. Addressing election rallies in north Kashmir, Omar told people "you have to choose between Advani and Manmohan Singh".

CM Omar Abdullah shares a point with his father Dr Farooq Abdullah during an election rally at Handwara on Monday. Tribune photo: Amin War

Apologise to Gujjars, PDP asks Omar
Jammu, May 11
PDP MLA Zulfikar Ali has criticised the state government for using brutal force against Gujjars at Belicharana village on Saturday. He demanded that Chief Minister Omar Abdullah should apologise to the Gujjar community by taking moral responsibility of the action.
Vohra for India as knowledge society
Srinagar, May 11
Governor NN Vohra has emphasised the need for evolving appropriate models of growth and development and forging effective linkages between traditional knowledge and modern technologies to establish a vibrant knowledge-based society.
CM meets Vohra
Srinagar, May 11
Chief Minister Omar Abdullah met Governor NN Vohra at Raj Bhawan here this evening immediately after the conclusion of the campaign for the last and final phase of elections in the state. An official spokesman said the Chief Minister and the Governor, during discussions lasting for over an hour, covered various important issues, including security related matters. — TNS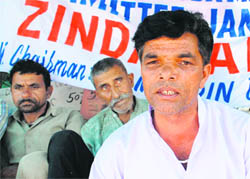 Members of the Doda Migrants Action Committee brief mediapersons about their pending demands in Jammu on Monday. Photo: Inderjeet Singh
Cancel FIRs against Bomai residents: PDP
Srinagar, May 11
PDP president Mehbooba Mufti has alleged that the state government has let loose a reign of repression to stifle voices seeking justice through peaceful protests.
BJP, LUTF campaign in Leh
Jammu, May 11
The Ladakh Union Territory Front (LUTF) and the BJP have been campaigning extensively in Leh town for the Ladakh parliamentary seat. The LUTF had parted ways with the Congress-led UPA government at the Centre and joined hands with the BJP-led NDA.
Mufti for rejuvenating cross-LoC ties
Srinagar, May 11
Former Chief Minister Mufti Mohammad Sayeed said the Srinagar-Muzafarabad road would have become fully operational by now had the PDP-led government continued in office beyond 2005 and the re-opening of all other traditional cross-LoC routes would have been ensured.
GMC faces staff crunch as new block gets ready
Jammu, May 11
Almost nearing completion as a part of expansion and modernisation plan at a cost of Rs 9 crore, the emergency block of the prestigious Government Medical College (GMC) finds going tough in the wake of the manpower crunch.
Gole Puli to Panj Pir: A road of miseries
Jammu, May 11
The 2-km-long road from Gole Puli to Panj Pir in Ward No 31, which was dug up almost one year back for burying sewerage pipes, has not been repaired till date adding to the people's woes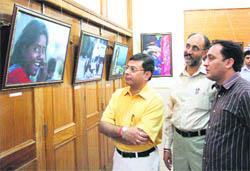 People visit a photo exhibition organised by the Jammu Photojournalist Association at the Jammu Press Club on Monday, on the first death anniversary of Ashok Sodhi, who laid down his life covering the Samba encounter. Photo: Inderjeet Singh
Action against girl's killers sought
Srinagar, May 11
A week after Romana, daughter of Dr Javaid Shabnam of Gulshan Colony, Chanapora, was crushed to death by a few boys driving a de luxe car at Parraypora, children belonging to schools run by the HELP Foundation, an NGO, carried out a sit-in at Pratap Park here.
No threat of swine flu: Govt
Jammu, May 11
The government said today that no suspected case of swine flu had been reported so far from any part of the state.
Students' exchange programme held
Jammu, May 11
A six-day-long students' exchange programme was organised by Army Public School, Udhampur. Around 50 students from Army School Akhnoor, Army School Nagrota and Army School Rakhmuthi, were given rich exposure to a variety of academic, cultural and sports activities.
VC visits exam centres
Jammu, May 11
In an endeavour to bring in qualitative reforms in the examination system, Prof Varun Sahni, Vice-Chancellor (VC) of Jammu University, along with a team of university officials, today paid surprise visits to the undergraduate part -III examination centres at GGM Science College and Government College for Women, Gandhi Nagar.
Hospital facilities lying unused: BJP
Jammu, May 11
The state BJP has alleged the Omar Abdullah government was not serious in providing medical facilities to the masses, especially in the Jammu province.
Dalip Jamwal elected JUTA president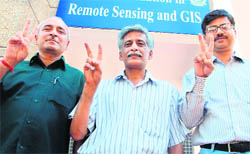 Jammu, May 11
Prof Dalip Singh Jamwal from Department of Mathematics, Prof. Vijay Dev Singh, Directorate of Distance Education (DDE) and Prof Pankaj Kumar Srivastava, Department of Geology, were today elected president, vice-president and general secretary, respectively, of the Jammu University Teachers Association (JUTA).

Dalip Singh Jamwal (centre), who was elected president of the Jammu University Teachers Associaiton, along with vice-president Vijay Dev (left) and general secretary Pankaj Srivastava at Jammu University on Monday. Tribune photo

Far-off tourist spots to be 'tapped'
Jammu, May 11
Minister for Health, Horticulture and Floriculture Sham Lal Sharma has said the government is making concerted efforts to develop Dev Sathan of Bua Datti in Baswa village, near Chowki Choura in Akhnoor tehsil, as tourist spots.
Leh and Kargil: United by history, divided by politics
Leh and Kargil, May 11
Leh and Kargil may be united by a common Ladakhi heritage and shared past running into hundreds of years but the prevailing gulf between residents of the two districts could not be wider.