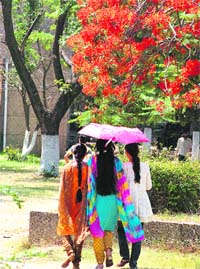 Gulmohar trees in full bloom are a treat to watch on the Jammu University campus these days. Tribune photo: Anand Sharma
It's just 10 per cent in Sopore amid boycott
Bomai (Sopore), May 13
Residents in the homeland of hardline separatist leader Syed Ali Geelani today maintained their indifference to the Lok Sabha poll, resulting in the least turnout of around 10 per cent in the Sopore constituency against about 20 per cent in the last Assembly elections.
Major admn reshuffle on the cards
Jammu, May 13
While politicians are eagerly awaiting election results, police and civil administration officers are having anxious moments as the state government is all set to carry out a major administrative reshuffle anytime after May 16.
Belicharana Clash
Cong MLA seeks magisterial probe
Jammu, May 13
Expressing concern over the Belicharana incident, senior Congress leader and sitting MLA from Gool-Arnas Aijaz Ahmed Khan today demanded a time-bound high-level magisterial inquiry into it.
Belicharana Incident
Students seek action against culprits
Serve 7-day ultimatum on govt
Jammu, May 13
Condemning the brutal action of the police against innocent Gujjars at Belicharana, the All Jammu and Kashmir ST/SC Students Federation has served a seven-day ultimatum on the government to take action against the officers involved and to rehabilitate the Gujjar families.
Amarnath yatra begins on June 7
Srinagar, May 13
The annual yatra to the cave shrine of Amarnath will commence on June 7 and conclude on on August 5. According to a spokesman of the Shri Amarnath Shrine Board (SASB), Governor NN Vohra, who is also chairman of the board, has taken this decision after broad-based consultations with the quarters concerned.
VHP for probe into encroachments
Jammu, May 13
The VHP has attacked the growing 'lslamisation' in Jammu where Muslims are illegally occupying forestland, and covering Jammu from all sides. State president of the VHP Ramakant Dubey told mediapersons that if the situation continued this way, soon Jammu would become another Kashmir, where the Hindu community was forced to flee from their own land.
Bickerings in Doda Cong to the fore
Udhampur, May 13
Bickering in the Doda unit of the Congress came to the fore today, as party candidate for the Bhaderwah Assembly byelections Mohammad Sharief Niaz appealed to the party high command to take action against those disgruntled party leaders who "worked" for BJP and PDP candidates in the byelections recently.
Ration shortage: PDP threatens stir
Udhampur, May 13
Expressing concern over acute shortage of ration in most parts of Banihal tehsil of Ramban district, the PDP today warned to launch a stir if no action is taken soon.
Helpline to check illegal constructions
Jammu, May 13
Mubarak Singh, commissioner of the Jammu Municipal Corporation (MC), at a meeting of the Building Operation Controlling Authority today cleared 65 cases of building permission and received Rs 10 lakh as building fee.
Kishtwar residents protest on 10th day of accident
Udhampur, May 13
The tragic road accident that claimed lives of 31 passengers, including 16 teachers, on May 4 has bridged the divide between majority and minority communities in the communally-sensitive Kishtwar town. The way members of both communities, irrespective of their party affiliations, today came on roads to protest against the insensitivity of the government toward problems of the people, is a clear indication that the tragedy had cemented the bond that was shattered after last year's communal violence in the town.
84 illegal banquet halls in Jammu
Jammu, May 13
Following the HC orders, the Jammu Municipal Corporation (JMC) has issued notices to 84 illegal banquet halls functioning within the municipal limits without permission.
Newly married woman set afire
Jammu, May 13
A newly married woman was allegedly set on fire by her in-laws in Akhnoor town today. Married four months ago to a jeweller, Rajesh Verma of Raja Bazaar in Akhnoor, 26-year-old Hema Rani of Janipur sustained 90 per cent burns.
Cop booked for bribery
Jammu, May 13
The Vigilance Organisation today registered a case against Rajeshwar Singh, sub-inspector, for demanding and accepting illegal gratification from the family of a complainant, who was taken into custody in August 2005.
Business rivalry led to fruit dealer's murder; 3 held
Udhampur, May 13
With the arrest of three persons, including the main accused, the police today claimed to have solved the murder of fruit dealer Sanju Jandial in Chabotra Bazar on May 2.
1984 riots
Manmohan's statement painful: NSF
Jammu, May 13
The state unit of the National Sikh Front (NSF) today described Prime Minister Manmohan Singh's statement on the 1984 riots that "some people want to keep the anti-Sikh riots issue alive for their selfish interests" as unbelievable, shocking and painful.
Army holds symposium
Udhampur, May 13
The Northern Command of the Army organised a symposium "North Tech-09" on safety and security technologies. Army Commander Lt Gen PC Bhardwaj inaugurated it. The symposium showcased a large number of innovations by Army units which enhanced the effectiveness of weapon systems and equipment, as also modern products related to safety and security of troops by various manufactures and vendors.