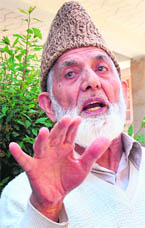 Hurriyat chairman Syed Ali Shah Gellani brings home a point during a press conference in Srinagar on Thursday. Tribune photo: Amin War
Belicharana Clash
Forest staff threaten to go on fast
Jammu, May 14
Nearly 500 employees of the Social Forestry Department today served an ultimatum on the NC-led government to bring back officials attached with the Director Social Forestry and the Chief Conservator of Forests, Jammu, by May 19. They threatened to go on a relay fast if the government failed to meet their demand.
Steps in place to check timber smuggling
Srinagar, May 14
Mian Altaf Ahmad, Minister for Forest and Environment, said today that the state government had initiated many steps to deal with timber smuggling and also for preservation of environment in the state.
Poll hits tourist flow to Nubra valley
Leh, May 14
Due to declaration of the Nubra valley, a famous tourist spot in Ladakh, as one of the restricted areas, tourists are only allowed to visit some parts of it after obtaining an inner-line permit from the district administration in Leh.
Kirti Panun Kashmir women wing chief
Jammu, May 14
The Panun Kashmir announced the formation of its women's wing - The Daughters of Panun Kashmir - today. The formation of the wing was made in a large convention of nearly 100 women activists and attended by leaders of the Panun Kashmir and its convener Dr. Agnishekhar.
NSUI protests harassment of girl students
Jammu, May 14
Activists of the NSUI yesterday held a protest at Jammu University demanding the establishment of a grievance cell in schools and at the offices of zonal education officer (ZEO) and chief education officer (CEO).
B'desh national arrested near LoC
Jammu, May 14
The BSF arrested a Bangladeshi national from the international border, who was trying to exfiltrate into the Pakistani side from Kanachak sector of Jammu district today.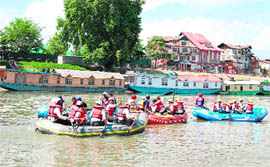 Players in action during a rafting championship on the banks of the Jhelum organised by the Directorate of Tourism Kashmir in Srinagar on Thursday. Tribune photo: Amin War
Woman succumbs to burns
Husband, father-in-law held
Jammu, May 14
The Akhnoor police today arrested husband Rajesh Verma and father-in-law Satpal Verma under charges of cruelty and abetment to suicide following the death of Hema Rani, a newly married woman, in the local Government Medical College (GMC) late last night.
Judicial probe on against senior cops
Jammu, May 14
Special Excise Mobile Magistrate, Jammu, Sunit Gupta has initiated a judicial inquiry into a complaint filed by Iftikhar Khan Salaria against IGP, security, Ashok Kumar Gupta, DIG, security, Kamal Saini, SSP, security, Johny Williams, SSP, Jammu, Manohar Singh, Dy SP SD Chauhan, SHO, Nowabad, Arun Jamwal, deputy custodian Parshotam and constable Nishant.
Tehsildar finds staff absent
Udhampur, May 14
Reasi tehsildar Gandharb Singh visited many government offices during a three-day tour of the Bhumagh area and found a large number of employees absent from duty.
Govt staff told to be punctual
Udhampur, May 14
Following a large number complaints that government employees are not attending offices in far-flung areas, District Development Commissioner, Reasi, Sanjeev Verma, during a meeting of district heads of various departments, today underscored the need for punctuality in attendance, besides accomplishing targeted works.
Moungri mela at Sar Dabber begins
Udhampur, May 14
A large number of visitors arrived at Sar Dabber (Moungri) in Panchari block of Udhampur district on the first day of the three-day Moungri Mela, which commenced today.
Migrants' bodies asked to 'hold' elections
Jammu, May 14
National vice-president of the Yuva Lok Janshakti Party Sanjay Saraf has asked all Kashmiri Pandit organisations to hold elections so that they could be allowed to represent the community during talks with Central and state governments.
Dr Adit Gupta awarded
Jammu, May 14
Dr Adit Gupta, Joint Director of the Model Institute of Education and Research (MIER), has received the prestigious Endeavour Executive Award of the Australian Government this year.