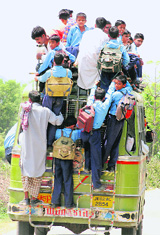 Putting life at risk: Owing to inadequate transport facility, such overloading of buses is routine in Dhansal division. Tribune photo: Anand Sharma
BJP infighting likely to deepen
Udhampur, May 17
Infighting in the faction-ridden BJP is likely to be intensified after the humiliating defeat of Dr Nirmal Singh from the Udhampur-Doda Lok Sabha seat as a group within the party has worked openly against the party candidate. Bickering was going in the party from the day one after Dr Nirmal Singh was fielded from this Lok Sabha seat.
Demand for Jammu MP in Cabinet
Jammu, May 17
After the two consecutive wins by both Congress candidates from the two parliamentary constituencies in the Jammu region, demand for a Cabinet berth for one of them is being raised.
PDP ousted from national politics
Jammu, May 17
PDP president Mehbooba Mufti, who once shared stage with UPA chairperson Sonia Gandhi for being a part of the Congress-led UPA government, today stands alone as her party has been wiped out from the national political scene.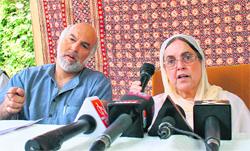 Awami National Conference president Khalida Shah and her son, Muzaffar Shah, address a press conference in Srinagar on Sunday. Tribune photo
Omar promises allround development
Srinagar, May 17
Chief Minister Omar Abdullah said today that the coming five and a half years of his government would be dedicated to public cause and allround development of the state would be the guiding factor for governance.
Defence land delays Jammu airport project
Jammu, May 17
The ambitious plan for a new terminal building for Jammu Airport which will involve 1,300 kanals of land, extending up to Vikram Chowk, near Tawi river, has got stuck due to a chunk of 145 kanals of Defence land en route.
Rights panel for more amenities for jail inmates
Jammu, May 17
The J&K States Human Rights Commission (SHRC) has recommended a woman doctor for all district jails in Jammu division. It has also asked the government for providing better facilities to child inmates, besides transport facilities to undertrials, to appear before the court on fixed dates.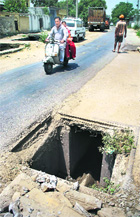 Seven hurt after falling in manholes, but admn unmoved
Jammu, May 17
As many as seven persons were injured after falling in open manholes in Camp Gole Gujral on the outskirts of the city last week. The Tribune had highlighted the problem in its columns recently. Mann Kaur, 75, suffered a fracture in her right foot and other injuries when she fell in a manhole on Thursday evening.




An open manhole at Gol Gujral in Jammu. Photo: Inderjeet Singh
Youth urged to promote self-employment
Srinagar, May 17
Expressing hope that Kashmiri youth would follow the suit of setting up their business units, Dr AS Rao, advisor, Ministry of Science and Technology, Government of India, on Saturday said his ministry had so far helped 300 innovators across India in starting their own venture.
Arrangements for Amarnath yatra reviewed
Jammu, May 17
A high-level meeting here yesterday reviewed arrangements for the Amarnath yatra from June 7 here. Warning of stern action against overcharging, Dr Pawan Kotwal, Divisional Commissioner, Jammu, directed that the devotees should be charged the approved rates whether in hotels or in any mode of transport.
Pvt schools run illegally in Nowshera
Nowshera (Rajouri), May 17
Not caring two hoots for various rules fixed by the Directorate of School Education (DSE) for recognition of private-run schools, seven schools are functioning in Nowshera and its adjoining areas of Laam Ladoka without any statutory permission.