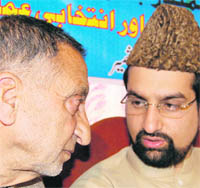 APHC for 'resolving' Kashmir by plebiscite
Srinagar, May 19
The separatist APHC organised a day-long seminar entitled "Kashmir issue, plebiscite and election process" at its headquarters here today. It was organised as part of Hurriyat's week-long commemorations ahead of the 19th death anniversary of Mirwaiz Moulvi Mohammad Farooq.

APHC Chairman Mirwaiz Umar Farooq (right) confers with senior Hurriyat leader Abdul Ghani Bhat during a seminar in Srinagar on Tuesday. Tribune photo: Amin War

Flop show by govt schools
8 register below 15 pc pass percentage
Rajouri, May 19
Government schools have failed to achieve the desired results, despite the state government's efforts, which spends huge amount for the betterment of education.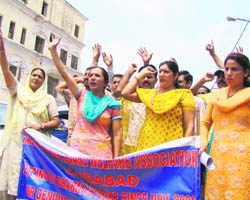 Members of the All J&K Home Guards Welfare Association protest in support of their pending demands at the Mubarak Mandi Complex in Jammu on Tuesday. Tribune photo: Anand Sharma
Notice to 2 pvt study centres
Jammu, May 19
Jammu University has served notice to two study centres, run by the University of Pondicherry and Maulana Azad National Urdu University, and has ordered immediate closure.
2 arrested in job racket
Rajouri, May 19
The police last evening arrested two persons for making fake appointments in the Agriculture Department. It also recovered foreign currency from them.
Training course for forest staff
Jammu, May 19
The state Department of Wildlife Protection is organising two weeks' refresher course for range officer grade II, forest protection force inspectors/foresters/forest guards/wildlife guards/forest protection force guards. As part of the ongoing efforts for training and capacity building of the front line staff of the Forest and Wildlife Department for effective wildlife management in the state, the course started yesterday and will continue till May 30 at the Nature Interpretation Centre, Dachigam National Park.
No respite from heat despite rain
Jammu, May 19
Though residents in Jammu this morning had a temporary respite from the scorching sun as the mild drizzle that lasted only a few minutes brought the morning temperature to 28.2°C, as the day passed on, the daytime temperature again started to soar, taking the temperature maximum to 41°C.
Incentives for docs working overtime
Srinagar, May 19
The state government today announced suitable incentives for doctors and paramedics who attended their duties beyond normal working hours.
Another Unani doc attempts suicide
Srinagar, May 19
In second such incident in as many days, an unemployed Bachelor of Unani Medicine and Surgery (BUMS) doctor allegedly attempted suicide here today.
84 banquet halls sealed
Jammu, May 19
Acting on the directions of the High Court, the Jammu Municipal Corporation (JMC) along with the state police today sealed 84 banquet halls for running without official permission.
Parking Fee
Ultimatum served on Railways
Jammu, May 19
After a sustained campaign by The Tribune against the hike in the parking fee by the contractors at the local railway station Jammu, the Nirbhow Nirvair Organisation, Jammu and Kashmir, today served a seven-day ultimatum on the railway authorities stop it or it would stop railway traffic to Jammu.
Union leaders meet Salathia
Jammu, May 19
The State Central Labour Union has asked Labour and Employment Minister Surjeet Singh Salathia to redress the grievances of state government employees. A delegation led by Nar Singh met Salathia here today and discussed the problems being faced by the government employees.
Foundation day celebrated
Jammu, May 19
The Department of Buddhist Studies, University of Jammu, today celebrated its 23rd foundation day at Brig Rajinder Singh Auditorium.
50 baratis hospitalised after food poisoning
Jammu, May 19
Nearly 50 members of a marriage party were hospitalised of suspected food poisoning in Aknoor's Mawa belt, 39 km from here, official sources said.
Hizbul militant held in Kulgam
Srinagar, May 19
A heavily-armed militant of the Hizbul Mujahideen outfit was today arrested in Kulgam district of south Kashmir, the police said here.
Landmine defused in Samba
Jammu, May 19
The security forces today averted a major tragedy after they seized a live landmine along the border in Samba district.