Noida faces worst power crisis
Shortage may continue for a week
Noida/Gt Noida, May 23
With unprecedented power cuts in this extreme humid weather, Noida and Greater Noida are in the grip of utter chaos. In Greater Noida, all sectors remain without power for hours together.
Power cut schedule revised in Gurgaon
Gurgaon, May 23
The Dakshin Haryana Bijli Vitran Nigam (DHBVN) has revised its power regulatory measures (PRMs) with immediate effect. According to new timings, four power cuts for duration of one hour each may be imposed in urban and mixed urban areas, compared to power cuts of 4.45 hours under old PRMs.
Vendors to get MCD electronic cards
New Delhi, May 23
The Municipal Corporation of Delhi (MCD) has decided to give bio-cryptic cards to the vendors across the city.
MCD building policy by June
New Delhi, May 23
To curb unauthorised constructions in Delhi, the MCD has announced to formulate a building policy for sub-division of plots by June.
Mundka Metro line to be completed by year-end
New Delhi, May 23
The Delhi Metro is all set to complete the Inderlok-Mundka Metro corridor before time by the end of this year. According to sources, the line has already reached close to Bahadurgarh — Haryana border.
Gurgaon to get tough on traffic violators
Gurgaon, May 23
The Gurgaon police has chalked out an ambitious plan to regulate the flow of traffic in the city. As part of the drive, the police will tighten the noose around inebriated and underage persons found driving vehicles on the city roads.
1 lakh candidates take JNU entrance exams
New Delhi, May 23
Almost one lakh students appeared in the entrance examinations for different courses at Jawaharlal Nehru University (JNU) this year.
CM felicitates topper Tanvi
New Delhi, May 23
The Chief Minister of Haryana Bhupinder Singh Hooda has congratulated Tanvi Aggarwal on achieving the first position in CBSE Class XII examination.
Manav Sthali students shine
New Delhi, May 23
Class XII students of Manav Sthali School have performed well in the Central Board of Secondary Education (CBSE) examination, whose results were announced yesterday.
Sheila urges parents to bring kids to polio booths
New Delhi, May 23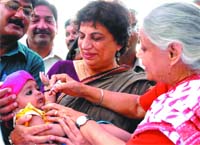 hief Minister Sheila Dikshit said to make a strong nation, we must have strong children, which is possible with the success of pulse polio immunisation programme. She exhorted parents to ensure that their children (till five years of age) are administered with the polio drops. She said the day was not far when Delhi would become polio-free.

Delhi Chief Minister Sheila Dikshit and Delhi health minister Kiran Walia administer polio drops to a baby in New Delhi on Saturday. Tribune photo
Sikhs sweep road to protest against Tytler
New Delhi, May 23

A large number of Sikhs, including the 1984 anti-Sikh riots victims, protested outside the Karkardooma Courts where a CBI court was hearing accused Jagdish Tytler's case.




1984 anti-Sikh riots victims protest against Jagdish Tytler outside Karkardooma Courts in East Delhi on Saturday. Tribune photo
Rs 3 m robbed from Gzb trader's home
Ghaziabad, May 23
Three men, under the pretext of buying a nearby flat, entered a flower trader's home this morning, had tea offered by the businessman's wife and then dramatically held their grandchild hostage and walked away with cash and valuables worth over Rs 3 million.
Bag lifters held
New Delhi, May 23
The south district police has arrested four persons for being allegedly involved in several cases of bag lifting in Delhi.
Moradabad resident held for murder
New Delhi, May 23
The north district police has arrested one person for being allegedly involved in a murder case.