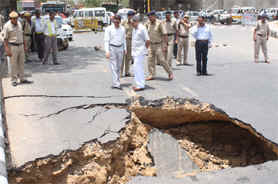 Quality of HUDA works exposed as road caves in at Gurgaon
Police registers case of negligence
Gurgaon, May 29
Tall claims made by the HUDA and other authorities concerned regarding the quality control of the construction works undertaken by them proved hollow today as a busy road in the heart of the city suddenly caved in today.

Officials inspect the site where a road caved in at Gurgaon on Friday. Tribune photo: Sayeed Ahmed

Spurious milk meant for Delhi seized in Haryana
Gurgaon/Chandigarh, May 29
Thousands of litres of spurious milk, including milk meant to be supplied under the Delhi Milk Scheme to residents of the national Capital, have been seized following raids at various places in Haryana.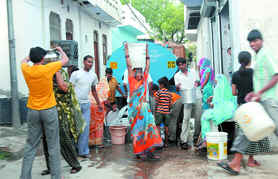 Residents of Shahabad Mohammodpur near Dwarka collect water from a tanker in New Delhi on Friday. Tribune photo

Safer system to treat sinusitis
New Delhi, May 29
Now the Navigation Image Guided System (NIGS) offers a better and safer approach towards treatment of sinusitis.
32 cameras to watch Nehru Place 24x7
New Delhi, May 29
Nehru Place Complex, the important commercial hub of the Capital which houses important computer hardware, fabric and textile businesses, several corporate offices, besides visa facilitation center of about ten countries, would now be monitored round-the-clock by the spying cameras of the Delhi police.
Robbers kill housewife at home
New Delhi, May 29
A 55-year-old housewife was stabbed to death at her house by two unidentified assailants last night in the Paschim Vihar area of west Delhi. Kiran Kapoor was stabbed with knives from her own kitchen even as her daughter Sakshi saved herself by hiding behind the sofa in the living room. The incident took place around 7 pm in the State Bank of India (SBI) Colony of Paschim Vihar.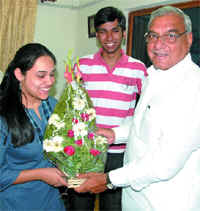 Haryana CM Bhupinder Singh Hooda greets CBSE class 12 exam topper Tanvi Aggarwal and topper of IIT-JEE Nitin Jain in New Delhi on Friday. Tribune photo

Woman, paramour found dead; husband grilled
New Delhi, May 29
In a possible suicide pact, a 27-year-old man first killed a married woman with whom he was having intimate relations and later stabbed himself to death last night in the Dabri area of south west Delhi. The two were found lying in a pool of blood around 10 pm by the woman's husband and rushed to Safdargunj Hospital.
Light rail to connect Noida with Gt Noida
Noida, May 29
The Noida Authority Board, at its 161st meeting yesterday, approved the proposal for connecting Noida with Greater Noida through the Light Rail Transit (LRT) system.
2 NCR kids top Class X exams
Ghaziabad/Noida, May 29
Two students from schools in the national capital region (NCR) have topped the Central Board of Secondary Education (CBSE) Class X examination by securing 98.6 per cent, school authorities said on Friday.
Fee Hike: Schools don't care two hoots about affidavits
Greater Noida, May 29 Even after submitting affidavits to the district administration assuring that they would not hike the fee by more than 25 per cent and would not recover arrears, some private schools here are back to their old game of recovering hiked fee and arrears from the parents of the students.
Metro hit as tree falls on line
New Delhi, May 29
Metro train services on Line 1 (Dilshad Garden–Rithala) were disrupted for sometime today after a tree fell on the overhead electric (OHE) line.
Free oral cancer test on June 1
New Delhi, May 29
With the World Health Organisation declaring tobacco as one of the biggest health threats the world is fighting, various health organisations across the Capital are carrying out cancer awareness campaigns during the next few days.