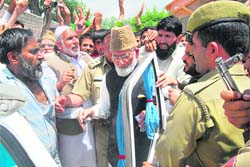 The police arrests chairman of the Hurriyat Conference's hardline fraction Syed Ali Shah Geelani after he tried to defy his house arrest in Srinagar on Friday. A Tribune photo
Brick-kiln owner alleges police inaction
Jammu, May 29
After some unidentified men, including a cop, allegedly kidnapped a brick-kiln owner in Mishriwalla area yesterday, the latter has leveled accusations of inaction on the part of police.
67,000 pilgrims register for yatra
Jammu, May 29
Even as heavy snow on tracks leading to the cave shrine forced Shri Amarnath Shrine Board (SASB) to defer the annual Amarnath yatra to June 15, a total of 67,000 pilgrims have been registered so far with the Jammu and Kashmir Bank Limited (JKBL) via online facility and bank's registration counters across the country.
Shiv Sena to set up langar at Bagwati Nagar base
The Shiv Sena Hindustan in its general meeting has decided to set up 'langar' (community kitchen) for the Amarnath yatris at the Bagwati Nagar base camp during the yatra.
Stranded return with memories of Punjabi hospitality
Jammu, May 29
It is Punjabi hospitality and not violence which is the talking point among railway passengers returning from Vaishno Devi after they spent harrowing time in different railway stations in Punjab, where they were stuck for over 15 hours due to violence over Vienna incident early this week.
Burglars strike at GPO
Decamp with cash worth Rs 5 lakh
Udhampur, May 29
In a sensational incident burglars struck at General post office in Dhar road area here late last night and decamped with cash worth 5.24 lakh after hand cuffing the watchman and critically injuring him.
Minister for AIDS awareness
Jammu, May 29
Advocating the introduction of AIDS awareness programme in moral education being imparted in educational institutions, Health Minister Sham Lal Sharma said these institutions could serve as means of creating awareness to check the spread of HIV infection.
Efforts of Red Cross hailed
Jammu, May 29
Pinning high hopes on youth to ensure respect for the human beings and prevent and alleviate human suffering, Jammu Divisional Commissioner Pawan Kotwal has said the Youth Red Cross should impart knowledge of providing first aid to its volunteers, particularly the youth.
Maths exam to be rescheduled
Jammu, May 29
A delegation of the Jammu Joint Students Federation (JJSF) along with students today met Controller Examination, University of Jammu, Prof RD Sharma to discuss the blunder happened in yesterday's BA, BSc, BCom final-year exam (Math - Paper A).
Purkhoo migrants face water crisis
Jammu, May 29
The Pradesh Youth Congress Committee has expressed concern over acute shortage of drinking water in the migrant camp of Purkhoo.
Protest against attacks in Australia
Jammu, May 29
The activists of Nirbhow Nirvair Organisation today staged a protest demonstration on the Airport road near Karan Bagh here against continued attacks on Indian students pursuing their academics in Australia.
Patwari caught taking bribe
Srinagar, May 29
The State Vigilance Organisation has arrested Shafat-Ul-Rehman, a patwari of Arth halqa in Budgam district while accepting a bribe of Rs. 5000 for the preparation of a challan.
Class X topper felicitated
Jammu, May 29
District development commissioner Saurabh Bhagat has commended Akshay Mahajan, a student of Kristu Jyoti Convent School, Samba, for making Samba district proud by standing first in the Class X exams.
Illegal Land Mutation
Case against revenue officials
Srinagar, May 29
State Vigilance Organisation has registered a case against revenue officials and beneficiaries for illegal mutation of state land in Estate Pahalgam and its adjacent villages.
Those absent from duty suspended
Rajouri, May 29
Twentytwo government officials of various departments posted in Thannamandi & Kalakote and 17 employees in Manjakote block of Rajouri district were placed under suspension here today.
Patient held for 'misconduct'
Rajouri, May 29
A day after a woman health worker alleged ill-treatment at the hands of a patient, Bittu Soodan, who had come for treatment in a hospital at Sunderbani, the police today arrested the accused. The police reportedly arrested Bittu after she alleged that the former threatened and misbehaved with her. A case was registered against the accused.