Apeejay School student tops in PTU-CET
Jalandhar, May 29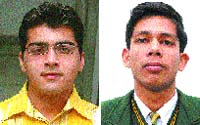 A student of Apeejay School, Siddhant Malik, has stood first in the city and fourth in the overall Punjab Technical University CET results declared this morning. Son of a bank manager, he has scored 104 marks out of 120. Siddhant has also cleared the BITS entrance test with a rank of 332 and is currently waiting for the AIEEE results before he makes up his mind for taking a seat.
Siddhant Malik/Raghav Aggarwal
Success story of twins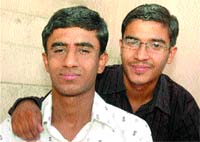 The most interesting case is that of twins Aseem Sayal and Ameen Sayal, both of whom have attained an identical score of 97 each out of 120 in the CET. Since Aseem has obtained two more marks than Ameen in physics, he has got a better rank of 27, while his brother follows him at 29th rank.



Sayal and Ameen Sayal Tribune photo: Pawan Sharma
Candidates have to start from scratch
Jalandhar, May 29
The political parties were finding it hard to maintain the tempo of electioneering after the Nurmahal byelection was postponed to June 12 in wake of the Vienna incident.
It's a balanced Cabinet: Ex-MP
Hoshiarpur, May 29
While appreciating the formation of new Union Cabinet, former MP Kamal Chaudhary said Prime Minister Dr Manmohan Singh had given due representation to all sections of society, including youths, and formed his balanced ministry in all respects.
Meeting discusses anti-flood steps
Hoshiarpur, May 29
To take anti-flood measures during the ensuing monsoon, a meeting of the district officials was convened by Deputy Commissioner N.K. Wadhawan here today.
Inter-state gang of robbers busted
Nawanshahr, May 29
SSP Rakesh Aggarwal today claimed to have busted an inter-state gang involved in 19 incidents of robbery, murder, drug smuggling and vehicle snatching by arresting its six members, including its kingpin Gurbaksh Singh, alias Balram Singh, alias Jassi, a resident of Faridkot.
Body of youth found
Batala, May 29
The body of a youth was recovered from the roadside by the Batala police.
Baba Bilga to be cremated on June 3
Jalandhar, May 29
The cremation of Ghadarite Baba Bhagat Singh Bilga would be held at his village Bilga, near here, on June 3. The body of this freedom fighter will be flown from the UK on June 2 and reach here on June 3 morning. He died at the age of 102. "It was the desire of Baba Bilga that his last rites be performed at his native village where he grew up and spent a memorable time of his life," said Gurmeet Singh, convener of the cultural affairs of Desh Bhagat Yadgaar Hall (DBYH).