PM assures Omar of help to speed up development
Srinagar, May 30
Chief Minister Omar Abdullah had meetings with Prime Minister Manmohan Singh, Home Minister P Chidambaram and other leaders in New Delhi yesterday to discuss a number of issues related to the development and security of the state.
Inadequate Security
Tragedy waiting to happen at Bhairon temple
Jammu, May 30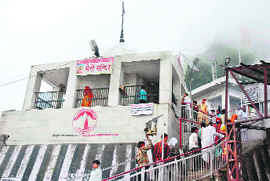 A stampede can happen anytime at Bhairon temple, situated 1.72 km away from Mata Vaishno Devi temple, due to insufficient security arrangements. Security men, four or five in number, are not sufficient to manage a bustling crowd of 10,000 to 15,000 at a time at the temple. The situation can anytime turn tragic.
A view of the Bhairon temple near Katra town that requires more security arrangements to deal with the rush of pilgrims. Tribune photo: Anand Sharma

Anti-Tobacco Day
Ban goes up in smoke in valley
Srinagar, May 30
With the world observing World Anti-Tobacco Day tomorrow, public circles in the Kashmir valley are somewhat perplexed since the ban on smoking in public places is not implemented in letter and spirit.
Students take out rally
Udhampur, May 30
With an aim to educate the masses about ill-effects of the smoking, a large number of students from government schools of the town today took out an impressive rally. The students were carrying banners and placards on ill-effects of the tobacco and its allied products.
Varsity to reconduct maths exam on June 6
Jammu, May 30
After a meeting with Controller Examination, Jammu University, R.D. Sharma, members of the Jammu Joint Students' Federation (JJSF) said today that Sharma had decided to hold the examination again for mathematics paper for BA, BSc, BCom, BBA, BCA part- III on June 6.
No headway in post office robbery case
Udhamapur, May 30
Even as the police has picked up six suspects for questioning, it has failed to make any headway in the Head Post Office robbery case. The robbery had created fear among residents of this peaceful town.
Harmful effects of smoking highlighted
Jammu, May 30
Sprawling Buds School, Chinore, today organised an awareness programme on the eve of World No Tobacco Day at Janipura.
Over 50,000 likely to visit Khir Bhawani shrine today
Tulamulla (Ganderbal), May 30
Over 50,000 migrant Kashmiri Pandits are expected to converge at the famous Khir Bhawani temple on the occasion of the annual festival in this township, about 30 km from Srinagar, tomorrow. A large number of pilgrims residing in different areas outside the valley over the past 18 years, have visited the shrine of the Ragnya Devi amid adequate security arrangements over the past few days.
Central team visits Jagti migrant camp
Jammu, May 30
A special team of the Union Home Ministry ascertained the status of the Rs 345-crore housing project at the Jagti migrant relief camp near Nagrota today.
Finance panel inspects art academy
Srinagar, May 30
The State Finance Commission visited the headquarters of the Jammu and Kashmir Academy of Art, Culture and Languages yesterday and inspected its various branches, including painting and manuscripts sections.
Robbery bids at 3 places
Jammu, May 30
Nearly 10 unidentified men made futile bids to burgle office of the Town Area Committee, post office and Government Girls Higher Secondary School in Kathua, some 80 kilometres from here.
Students suspend strike
Jammu, May 30
The Student Scholars Joint Action Committee today suspended its ongoing indefinite strike as Vice-Chancellor, Jammu University, Varun Sahni assured them of necessary steps to bring transparency in the functioning of the administration.
Mobike-borne youths snatch chains
Jammu, May 30
Two mobike-borne youths snatched a gold chain from a woman near Convent School in Bishnah, around 18 kms from here.
HM militant nabbed
Srinagar, May 30
The police has apprehended a Hizbul Mujahideen militant at Janbazpora under Baramulla police station during a naka.
Jawan hurt in accidental fire
Jammu, May 30
An Army jawan was injured in an accidental fire inside his unit in Mishriwalla, near here, this morning.
Lineman electrocuted
Jammu, May 30
A daily wage lineman of the Power Development Department (PDD) died late last night when he fell from an electricity pole after suffering a shock while rectifying a technical snag in the Sangrampur area on the outskirts of the city.