Purifying water with silver ions
Neena Sharma
Tribune News Service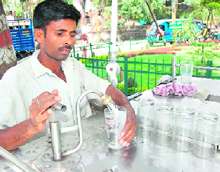 Dehradun, June 2
Doing away with the traditional practice of using chlorine for purification of water, the Peyjal Nigam has been successfully using silver ionisation method for the last three years.
The method was made mandatory after restruct- uring of water supply system under the Jawaharlal Nehru Urban Renewal Mission Programme.
While authorities here vouch for self-sufficiency till the year 2040, to provide safe and palatable water to the denizens has always
been a challenge.
According to various studies undertaken by independent bodies and NGOs, quality of water has always been suspect in terms of presence of high degree of chlorine.
However, under the Jawaharlal Nehru Urban Renewal Mission, silver ions are being used as an important disinfectant for purifying water. The method is better because the residual ions continue to work for 48 hours.
The water purification system consists of a state-of-the-art microprocessor control box and a scientifically designed set of electrodes composed of copper and silver, which are set slightly apart from each other.
Water is passed through a specially built flow-cell chamber that houses the electrodes. "The benefits of silver ionisation are immense albeit the costs are on the higher side. A simple plant could cost as much as Rs 1.5 lakh and upwards," said RN Verma, managing director, Peyjal Nigam.
Although chlorination has been a popular method for purification, scientists are of the opinion that viable alternatives are already available and they should be used.
Besides, the World Health Organisation has been warning against the carcinogenic properties of chlorine.
A prescribed quantity - between .2mg/lit -.5mg/lit - of chlorine is used for disinfecting water, but the cumbersome process of storage and manual handling is working against the method.
Besides, the staff that is manually handling chlorine has to be trained in its exact use and even monitoring of the plant has be undertaken, as the gas is highly toxic and can cause lung and skin diseases.
On the other hand, silver has been known as an effective bacteria and virus killer for centuries. Silver sulfate is the standard antibacterial treatment for burns and any type of open wounds, and is also used to protect the eyes of newborns.
Household and industrial carbon filters purify water through silver particles and interiors of refrigerators are rendered antibacterial by the presence of silver ions.
"Silver is used as the purifier for drinking water by half of the world's airlines and in over 1,000 passenger ships. It is also being used in the middle- east. In Dehradun, we began its use three years back when silver electrodes were fitted in seven tubewells. In due course, 33 tubewells will be covered. Use of silver for purification purpose is certainly proving a boon," added Verma.
When silver ions are released into water, the surface-active ions act as a potent biocide. The disinfection takes place when positively charged silver ions form electrostatic bonds with negatively charged areas on the cell walls of the micro-organism. These electrostatic bonds create stresses that lead to distorted cell wall permeability, which minimises the normal intake of life-sustaining nutrients.
"Copper and silver ionisation process can help in killing cryptosporidium, E-Coli, V. Cholera and many other types of bacteria and viruses," informed Dr KC Pant, senior physician at the Doon Hospital.
Once inside an algae cell, silver attacks sulfur that contains amino acid residues in the proteins used for photosynthesis (the process that plants use for converting light into food and energy).
As a result, photosynthesis is blocked, which leads to cell death. If the algae cell manages to live, the reproduction process is hampered by the presence of silver ions and the spread of algae is checked. Bacteria is killed, rather that suppressed.
"Approximately 0.05 ppm (parts per million) silver electrodes are used to disinfect 160 million litres of water, which could last for eight months, while 0.01 ppm of silver electrodes can disinfect 80 million litres of water, which can last for 4-5 months," said Devinder Singh Negi, superintendent engineer with the Peyjal Nigam.