Chill Thrill: Guchhu Pani shows it how
Divya Semwal
Tribune News Service
Dehradun, May 27
This summer, water bodies and swimming polls in and around the city are attracting a large number of locals as well as tourists. With various summer camps for students being run all over Dehradun, private enterprises and educational institutions alike are providing the pool facility to those enrolled with them.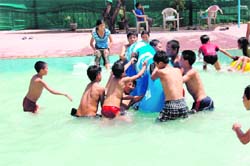 Many tourists who come here for holidaying love to re-energise themselves with water activities as if to drown their worries.
"I have come from Delhi and will be visiting all major water falls. My favourite destinations are Kempty Falls, Batta Falls in Mussorrie, the Shehastradhara waterfall, the Lacciwala waterfall, robbers' cave and pools situated at Guchhu Pani in Dehradun," said Swati, a teacher.
River rafting camps organised from October till the onset of monsoons in Rishikesh remain an all-time favourite with tourists. The thrill is simply unmatched.
"I heard about rafting from my friends, but as I don't know how to swim, I avoided it for some time. Finally, in 2008, I went for it and I am glad I experienced something so different," said Sachin Sharma, engineer working at Noida.
For locals who love water bodies but don't get time to travel to picnic destinations in Mossorrie, Rishikesh or Haridwar too often, can visit swimming pools at clubs and schools or the Guchu Pani picnic spot.
The craze for fitness and looking attractive is one of the major reasons why a large number of summer camps, swimming classes and high-class gyms have come up in the city at a steady rate.
Since the past 10 years, Doon Cambridge School has been running a swimming pool. "People have become health conscious, thanks to the media. Citizens are taking to sports such as lawn tennis and swimming to keep in shape.
"From school kids to senior citizens, all want to keep fit. The pool membership is Rs 1,200 a month . It has trained coaches. Almost 100 swimmers visit us daily," said Bijendra, swimming in charge, Doon Cambridge School.
However, for those who love to swim in natural surroundings, swimming pools situated at Guchu Pani, at a distance of a mere 5 km from the hustle and bustle of the city, is ideal.
Three swimming pools with clear waters of the Tauns in midst of mountains and the cool breeze is a favourite destination of locals and tourists alike.
Sources say the construction of swimming pools dates back to the pre-Independence period.
After Independence, a group of former army men from the area began to run the pools with the motive of providing employment opportunities to villagers.
"A decade ago, unemployed people residing in the area didn't have any option except to make money out of selling limestone collected from the Tauns. "A team of ex-servicemen from Guchu Pani decided to work towards providing jobs to the locals and converting the pools into picnic spots during the summers," said Surya Kiran Thapa, supervisor of the swimming pools.
"I love Guchu Pani pools as these are located in natural surroundings and are easily accessible," said Rahul, a college student. With security guards, swimming coaches and a canteen serving snacks, people come here in groups. At times they get packed food from home. The more adventurous chose to cook food after hours of fun in the pool.
"For security, we have deployed security guards. From 10 am till 6 pm, people are allowed to come here to eat and swim in fresh waters. There areseparate pools for men and women. Not only locals, but tourist from Delhi, Chandigarh and Punjab come here in large numbers. On weekends, there is a mad rush.
The ex-servicemen plan to expand the area and provide a larger space to people so that several other activities can be introduced.