World Metrology Day
Weight on consumer's mind
Jotirmay Thapliyal
Tribune News Service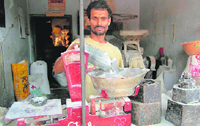 Dehradun, May 20
World Metrology Day is observed across the globe on May 20 every year but India's common man is yet to be fully aware of his rights as a consumer.
While there is been general ignorance vis-à-vis metrology, the Uttarakhand department of weights and measures, under the aegis of the department of food and civil supplies, has been working hard to enforce weights and measures standards established by the central government in the interests of consumers.
Enforcement officials of the department till date this year carried out 80,620 inspections leading to detection of 3,952 cases of violations on the part of traders:
As many as 32 violations by LPG agencies, 146 by those linked to packaging, 75 concerning petrol stations, 196 by fair price shops, 17 by kerosene depots, 114 cases by hardware shops, 18 linked to garment sellers, 51 by milk sellers, two by wheat purchase centres, 207 by floor mills, 91 by bullion traders, 114 by sweets shops, 1,034 by grocery shops, 367 concerning vegetable sellers and 969 others.
In April, the enforcement officials carried out as many as 4,322 inspections leading to detection of 165 cases pertaining to various irregularities, including seven by petrol and diesel statins, 16 by fair prices shops, five each by hardware factories and wheat purchase centres, 13 cases of violations by floor mills, 16 by factories, six by bullion traders and 41 by general merchants. This is apart from the verification and stamping of 31,837 items of weights and measures.
The department from time to time holds workshops to sensitise people on precautions that need to be undertaken so as to his consumer rights are not violated. The department has been acting promptly on complaints while also undertaking drives against unscrupulous traders.
"Inspections are carried out from time to time by the enforcement officials of our department and punitive action taken against those indulging in irregularities," said SN Aggarwal, assistant controller, weights and measures, Uttarakhand.
He said the department. apart from protecting consumer rights, provides handsome revenue earnings to the state.
In the last financial year 2008-09, against the assigned target of Rs 1.50 crore, the department earned a revenue of Rs 1,5083 crore. In April this year, the metrology department earned a total of Rs 11.77 lakh.
Continuing with punitive action against offenders, the department last financial year (2008-09) earned over Rs 10 lakh through compounding fee charges linked to 3,494 cases out of the 3,592 that came under the department's purview.
Similarly, from April 1, 2009, to April 30, 2009, the department collected revenue to the tune of Rs 47,400 again through compounding fee in 151 cases out of the 165 violations detected by the department.
However, consumer rights watch dogs call for more effective measures. Dr SK Kulshrestha of the Doon Consumer Action and Protection Society says in the fast- paced world, consumers barely find time to verify weights and measures.
The Citizen's Charter from time to time comes out with certain suggestions for the consumers in order to curb unlawful trade practices.
These include ensuring use of verified weights and measures while purchasing grocery, vegetable or other items.
Similar suggestions have come for scales measuring kerosene and the weight of LPG cylinders. Precautions need to be taken while purchasing gold and silver jewellery.
The department advises the consumers to promptly report violations and irregularities to laboratories spread across 22 locations in Uttarakhand, including Dehradun, Haridwar, Roorkie, Rishikesh, Kotdwar, Pauri, Chamoli, New Tehri, Narendra Nagar, Uttarkashi, Chakrata, Haldwani, Bhawali, Kictcha, Khatima, Sitarganj, Bajpur, Kashipur, Ranikhet, Almora, Bageshwar and Pitthoragarh.