Another week before horses get trotting
Jotirmay Thapliyal
Tribune News Service
Dehradun, May 16
After rushing reinforcements at Gaurikund, Uttarakhand finally seems to be getting control over equine influenza that had hit horses and mules, putting the Char Dham Yatra in jeopardy.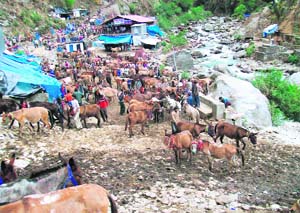 Mules and horses at Gauri Kund in Chamoli. A Tribune photograph.
For the first time on Saturday, no death was reported from Gaurikund. This came as a sigh of relief for animal husbandry department officials who had been working round the clock.
Pilgrims take to mules and horses for covering the last leg of journey to the Kedarnath shrine that comprises a trek between Gaurikund and Kedarnath in Rudpraprayag district.
"There have been no deaths today but we need to ensure that the horses and mules employed for ferrying pilgrims from Gaurikund to Kedarnath are provided much rest," said Dr VP Singh, additional director, animal husbandry department.
Doctors from Pantnagar Veterinary Hospital arrived at Gaurikund today and advised rest for the affected horses and mules.
"Being a respiratory disease, it is important that these horses and mules get complete rest. They carry both man and weight and exhaustion can be detrimental to these animals. We have appealed to the owners to provide them adequate rest", Dr VP Singh said.
There has been a tendency on the part of the owners to continue using the ailing beasts for ferrying pilgrims and supplies for financial gains. Most deaths are attributed to this very fact.
The animal husbandry department is not taking any chances. It has established 33 checkposts at various treks across the state to ensure that no affected horse and mule enters any of the treks. The Chief Minister and the animal husbandry minister have issued appeals to the owners to provide their animals complete rest.
The Pashulok control room has in the meantime inoculated nearly 3,000 horses and mules. To put a complete check on the disease, the Uttarakhand government has imposed a ban on the movement of horses and mules by sealing the state's boundaries, including one with Nepal, as equine influenza is considered highly contagious.
The Uttarakhand government has kept other veterinary officers ready in case of spread of the disease to new areas. As many as 37 horses and mules have died of the disease in a fortnight.
A total of 136 doctors have been deployed in Gaurikund and with the arrival of Pantnagar doctors, things are bound to improve.
Uttarakhand animal husbandry minister Trivendra Singh Rawat said the situation was almost under control and things were expected to improve in the next few days.
As a precaution, the state department is allowing horses and mules into the Valley of Flowers and Yamunotri only after through examination and fitness certification.
Horses and mules in Tawaghat, Joljeebe, Dharchula and Banbasa are also being monitored. Similarly, those hired for the Tugnath Chopta trek are also under strict observation. In the hill resort of Mussoorie, veterinary officials have collected samples from horses for any possible case in the area. The horses are frequently used to ferry tourists on the Mall Road.
However, no case of influenza has been so far reported from either Tungnath or Mussoorie.
Meanwhile, an NGO, Brooks, that has been working on the affected hoprses and mules has reached Gaurikund to assist the government officials in treating the animals. Mani Lal from Brooks said while the first line of treatment had been provided in the form of antibiotics, there was no substitute for rest.
This influenza usually strikes in cold climes. Horses and mules in Amarnath had been afflicted with a similar strain of influenza in September and October.
It would take some time before pilgrims can be ferried by horses and mules.
It would be hard for owners to rest their livestock for more than a week as the animals are a source of livelihood for many of them.