In Poll Gear
10,300 officials n 14,000 EVMs n 9,009 booths
Umesh Dewan
Tribune News Service


Dehradun, May 11
Uttarakhand is all set for polling in its five parliamentary constituencies on May 13 with the State Election Commission and the police having made all arrangements for the same.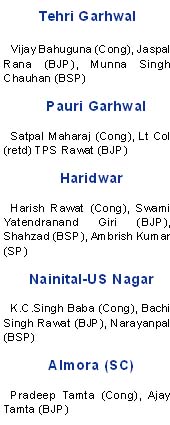 To ensure the election passes off peacefully, as many as 30,000 security personnel will be on election duty on May 13. Apart from a total of 14,000 EVMs that will be pressed into service, as many as 10,300 officials from various government departments will man 9009 polling booths in the state. There are 76 candidates of different parties in the fray.
Senior police officials said there are 965 and 387 "sensitive" and "hypersensitive" polling centres in the state and elaborate security arrangements have been made at these centres.
According to officials, 101 inspectors, 688 sub inspectors, 1,490 head constables, 9,554 constables and 4,032 home guard personnel will be on duty.
Besides 29 companies of central forces, 22 companies and two platoons of the Provincial. At least 2,200 personnel from the border wing of the Home Guard and 5,007 personnel from the Prantiya Rakshak Dal (PRD) have also been pressed into service.
All liquor vends in the state will remain closed from May 11 evening till May 13. "We have made proper security arrangements for the polling. The security personnel will remain deployed at every polling station," said IG Kumaon Ashok Kumar. Dehradun SSP Amit Kumar Sinha said security had been beefed up in Dehradun.
There is an increase of 1,68,640 voters, as compared to the 2004 general election. This time, 57,31,277 people in Uttarakhand will vote to elect members of parliament for the state's five parliamentary constituencies:Tehri Garhwal, Pauri Garhwal, Almora (SC), Nainital-Udham Singh Nagar and Haridwar.

Official statistics say the total number of male and female voters in Uttarakhand stand at 29,33,387 and 27,97,890, respectively.
Haridwar and Almora (SC) are the biggest and smallest parliamentary constituencies with 12,78,262 and 10,16,301 voters, respectively. Pauri Garhwal and Almora (SC) constituencies have a higher number of female voters. In Pauri Garhwal, their number is 31,097 more than male voters, whereas in Almora (SC) there are 34,897 more female voters than the male. Election Commission officials say since 49 polling stations in Uttarakhand are situated far away from motorable road. Polling parties for these stations left on May 10. There are around 1,752 polling stations in the state for which poll parties left today.
For the rest of the 4,666 polling stations, the poll parties leave on May 12. In order to ensure that no voter has to travel more than 3 km for casting his vote, the number of the booths in the state have been increased this time.
As per fresh delimitation, the assembly segments which fall in Tehri Garhwal include Purola (SC), Yamnotri, Gangotri, Ghanshali (SC), Partapnagar, Tehri, Dhanolti, Chakrata (ST), Vikasnagar, Sahaspur, Raipur, Rajpur Road, Dehradun Cantt and Mussoorie.
Likewise, Badrinath, Tharali (SC), Karanprayag, Kedarnath, Rudraprayag, Deoprayag, Narendra Nagar, Yamkeshwar, Pauri (SC), Srinagar, Chaubattakhal, Lansdowne, Kotdwar and Ramnagar fall in Pauri Garhwal. Dharchula, Didihat, Pithoragarh, Gangolihat (SC), Kapkote, Bageshwar (SC), Almora, Jageshwar, Lohagat and Champawat now comes under Almora (SC) and Lalkuwa, Bhimtal, Nainital (SC), Haldwani, Kaladhungi, Jaspur, Kashipur, Bajpur (SC), Gadarpur, Rudrapur, Kichha, Sitarganj, Nanak Matta (SC) and Khatima are in the Nainital-Udham Singh Nagar constituency.
Assembly segments which fall in Haridwar are Dharampur, Doiwala, Rishikesh, Haridwar, BHEL Ranipur, Jwalapur (SC), Bhagwanpur (SC), Jhabrera (SC), Pirankaliyar, Roorkee, Khanpur, Manglore, Laksar and Haridwar Rural.