Soldiering for final assault
With ex-servicemen in a position to tilt scales in almost all constituencies, the manifestos of the Congress and the BJP both talk of issues pertaining to their welfare
Umesh Dewan
Tribune News Service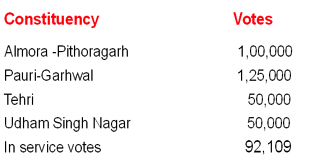 Dehradun, May 10
With the hill state of Uttarakhand
having a considerable number of
ex-servicemen and serving
soldiers as voters, political
parties are all out to woo them.
Both the Congress and the
BJP have taken up issues
pertaining to ex-servicemen
in their election manifestos.
Addressing election rallies, BJP's prime ministerial candidate LK Advani has claimed that if voted to power, the NDA would implement the "one rank, one pension" scheme in case of ex-servicemen.
Addressing an election rally in Dehradun yesterday, All-India Congress Committee (AICC) president Sonia Gandhi too claimed that her party was committed to the welfare of ex-servicemen and a high-level committee had been constituted to submit report on the issue.
Senior leaders who are members of ex-servicemen cells of both parties are holding meetings in various parts of the state.
While president of the ex-servicemen cell of the AICC Brig (retd) KP Singh Dev is on a whirlwind tour of various places in Uttarakhand, former J&K Governor Lt Gen (retd) SK Sinha will visit Dehradun on the last day of campaign, May 11.
In March and April, the BJP had organised sammelans of ex-servicemen in all constituencies of the state.
Ex-servicemen constitute a major part of the electorate in the state. According to rough estimates, there are at least one lakh ex-servicemen voters in Almora and Pithoragarh region, another 1.25 lakh in the Pauri Lok Sabha constituency, about 50,000 in the Tehri constituency and another 50,000 in Udham Singh Nagar and adjoining areas.
Furthermore, there are 92,109 service voters (defence personnel) in Uttarakhand. The importance of service votes can well be gauged from the fact that it was postal ballots that provided a win to BJP candidate from Pauri Lt Gen (retd) TPS Rawat in the 2008 byelection.
Rawat was trailing his Congress rival Satpal Maharaj at the end of the counting of EVM votes, but snatched a victory with a margin of 4,506 votes after the counting of postal ballots.
The parliamentary constituency with the maximum number of serving armed personnel and ex-servicemen is Pauri.
Out of more than 12 lakh voters in Pauri Garhwal, as many as 1,61,898 are either ex-servicemen, serving Army personnel or widows of ex-servicemen.
Meanwhile, addressing a gathering of ex-servicemen at Congress Bhawan today, president of the ex-servicemen cell of the AICC Brig (retd) KP Singh Dev said over the years, Congress had initiated several steps for betterment of ex-servicemen.
"When the UPA constituted a high-level committee to look into the matter of one rank, one pension, the BJP raised a hue and cry, stating that it was wrong to form a committee during election time. This shows the indifferent attitude of the BJP towards the needs of ex-servicemen," he claimed.
Dev said the the Congress-led UPA government had established a new and separate department for ex-servicemen's welfare in 2004.
"Since, ex-servicemen constitute a large cadre of dedicated and trained persons, the Congress had announced to employ them for crucial nation-building tasks," he said, adding that Congress was the only party which took care of ex-servicemen.
"It was during the Congress regime that a separate corporation was set up for re-employment of former defence personnel. "The BJP government has only made empty promises," said senior Congress leader Suryakant Dhasmana.
Convener of the state unit of the BJP ex-servicemen cell Col CM Nautiyal (retd) claimed the BJP had the support of 55 per cent of ex-servicemen in Uttarakhand.
"The ex-servicemen have found due representation in Uttarakhand with Maj Gen (retd) BC Khanduri on the chair of Chief Minister and Lt Gen (retd) TPS Rawat member of Parliament from Pauri Garhwal," claimed Col Nautiyal.
The BJP leaders maintained their election manifesto clearly mentioned that the armed forces deserved better pay and privileges. Col Nautiyal said the party manifesto mentioned that "pending issues of pay and privileges will be revisited and resolved to the satisfaction of the defence forces".
"The modalities for setting up a separate pay commission for the forces will be expedited. Besides, all personnel of the Army, Air Force and Navy, as also paramilitary forces, will be exempted from paying income tax on their salaries and perquisites and the principle of one rank, one pension will be implemented."