Children of a lesser god
The number of children employed in non-hazardous
occupations in all 13 districts of Uttarakhand
stands at 4,555 and in hazardous jobs 1,804
Neena Sharma
Tribune News Service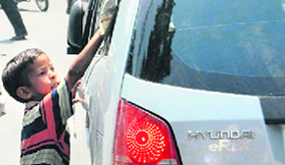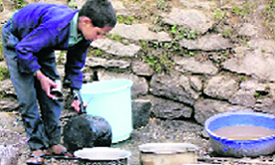 MAY DAY SIGNAL: A child cleaning car windows at a traffic signal in Dehradun (left); MESSY LIFE: A boy at a dhaba in Chamoli washes utensils. Tribune photos: Anil P. Rawat

Dehradun, May 1
Called chhokras, bolas or danis during the Gorkha rule, little boys of Uttarakhand were sold in the open market at Hari Ki Pauri in Haridwar.
Robbed of childhood and disillusioned with the conditions at home, they went with the highest bidder in the hope of a better life.
Several years ago Badri Prasad, a young lad hailing from Bamola village in Pauri, was auctioned at the Hari Ki Pauri market. Several years later, lady luck shined on him. He went on to become the Prime Minister of Fiji.
But most were not as lucky as Badri Prasad. Several of these chhokras were condemned to a life of physical labour and exploitation but the hope of finding an Eldorado continued to inspire them.
The slavery market no longer exists, but little pahari boys continue to slave at tea stalls, restaurants, homes, dhabas and hotels for pithy remunerations.
Despite a ban on child labour, the children continue to comprise a large section of our work force.
Rampant unemployment, poverty and too few options at home continue to push hundreds of pahari children into servitude.
According to a survey undertaken by the government between 2001-08, the total number of children identified as engaged in hazardous occupations are 1,670, and in non-hazardous jobs 3,363.
A large number of the pahari boys do not see any virtue in staying back and continuing with their education. The charming life of a townsman and the tales they hear from those who have made it big is a constant lure for them.
Also, the brutal beating received at the hands of a schoolmaster may have converted many a boy into a rebel.
Between 1997-2008, the total number of children employed in non-hazardous occupation in all 13 districts stood at 4,555 and in hazardous occupation 1,804. A total of 6,359 children were identified as child labourers.
"The state government has always been sensitive to the problems of child labour, not only comprehensive surveys are conducted but suitable and proper rehabilitation action is taken. The recovery amount as compensation is deposited in a corpus created in accordance with the directives of the Supreme Court. The government has so far rehabilitated 1,133 child labourers and the exercise is on for the remaining 3,900," said labour commissioner Girija Shankar Joshi.
The government issued 134 show-cause notices and recovery certificates were issued for an amount of Rs 6.61 lakh that was deposited in the corpus created as per the Supreme Court directives.
"As far as identification of child labourers goes, the department is vigilant, we undertake impromptu checks at hotels and factories, but our biggest problem is maintaining a vigil at homes," said Joshi.
In Uttarakhand, pahari chhokras accompanying sahibs and memsahibs during their annual trips to villages in the hills is a common sight.
The boys are brought to the town, many in their pre-teens, with the promise of providing for their education and possibly a job once they grow up.
"The allurement of a job in a town is too much to be given a go-by though it is another matter that the boys and even young girls usually are left in the lurch.
"There are few instances when these children have been well cared for," said Cyril Raphael of Shri Bhuvneshwari Mahila Ashram, an NGO based in Garhwal.
A large number of children are being employed at construction sites and factories. No attention is paid to their emotional and health needs.
"The government should undertake surprise checks at these sites to combat the practice. The problem is acute because once free, the children have no place to go with their parents also working out," said Aditi Kaur of Mountain Forum, an NGO.