Remedy for summer maladies
Neena Sharma
Tribune News Service
Dehradun, April 28
There has been a spurt in summer ailments in the city. Doon Hospital is witnessing a sharp rise in cases of diarrhoea, dengue, typhoid and food poisoning.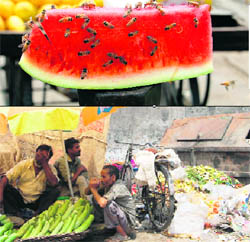 Cut watermelon invites bees ; and ( below) vegetables being sold near a garbage dump in Dehradun. Tribune photos
Fruit on ice cubes or displayed atop food trays should be avoided.Most food-borne illnesses are caused by bacteria, viruses and parasites (pathogens).The fruit becomes contaminated due to biochemical changes. Also, sellers often sprinkle unclean water on fruits and vegetables to keep them fresh.
Brightly coloured fruit and vegetables have special benefits, but some even shopkeepers inject colour into them and apply gloss on fruits to make them attractive and eye catching.
Common symptoms of food-borne illnesses include stomach cramps, nausea, diarrhoea, headache and fever. The high-risk groups are children and the elderly with a weak immune
system.
" Fruit juices and jal jeera should be avoided at any cost. As the food is not sterilised or refrigerated, it causes fever and diarrhoea. Fresh products can become contaminated in the fields through contact with soil, contaminated water or improper use of manure," explained Dr KC Pant, Doon Hospital.
Health experts say that fruits and vegetables provide essential micronutrients to the poor and urban poverty is on the rise.
It is important to encourage the consumption of highly nutritious fruits and vegetables grown in peri-urban fringes. But these may be contaminated with heavy metals like lead and copper and zinc.
"In Dehradun, small farmers are growing vegetables and melons on scanty patches of land for which water may be supplied through drains. This is a serious health hazard that needs to be checked.
"The produce may contain heavy doses of metal. At times even washing the vegetables and fruits may not free them of contamination," said Dr Pant.
Doctors say in the summer months, the floating population, comprising labourers who migrate from place to place and live in unhygienic conditions, too spreads infection.
"Though the situatrion is not alarming in the city, we have been monitoring cases of fever as our syndrome report alone mentions 52 jaundice cases, while a total of 101 cases were confirmed by us in the month of April," said Dr RK Pant, CMS, Doon Hospital. The city saw four cases of measles last week.
Patients with fever that lasts more than a week are being asked to undergo test for typhoid or enteric fever.
Besides typhoid cases, there has also been a surge in eye flu cases among children.The infection occurring in the conjunctiva that lines the eyelid is called conjunctivitis. It occurs due to infection or allergic reaction and can spread from one eye to the other and is contagious.
It arises mainly from unhealthy surroundings, eye strain, bacterial and virus infections and allergies.
In acute conditions it can result in a yellow discharge, itching and burning. "Duststorms in the early weeks of April is the main trigger.
The allergic reactions due to foreign particles entering the eye invariably cause eye flu. One should wear glasses and avoid harsh sunlight," said Dr NS Jangpangi, a senior eye surgeon.
While contamination of food has had the health experts worried, the quality of water being supplied by the water works department is being questioned. As of now there have been sporadic incidents of muddy water being supplied to some areas of the city. But the department claims a regular check on the quality of water being supplied.
"We are collecting water samples daily in order to monitor quality and chlorination of water is also being under taken,"said Virender Negi, of the department.
Leaking pipes and poor water storage conditions contribute to the health problems in the summer months.
Parasites multiply and when water moves slowly or is stored or when pipes leak impurities enter the water. "People do not take adequate precautions. Water stored over a period of time is not suitable for drinking but because of water scarcity, poor families do not take rudimentary precautions," Negi said.