This summer, kids look to 'funshala'
Divya Semwal
Tribune News Service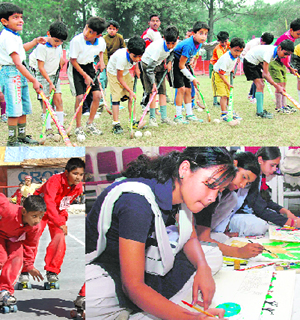 Children acquire hockey, roller-skating and
painting skills at various summer camps in
Dehradun. Tribune photographs
Dehradun, May 5
With declaration of summer vacations in Dehradun schools because of oppressive heat and polling for the general election scheduled for May 13 here, students are all excited and looking forward to enrolling themselves in summer camps during the two-month-long summer break.
Summer camps are a hit with children looking to break monotony, that comes from their strict academic schedule, and to developing skills through various activities at the camps.
A number of summer camps are being held in the city promisiFng fun and frolic to children. "I have enrolled my child with a dance class to enhance her dancing skills. It will give me satisfaction that she's not just whiling away time," said a mother.
"Summer extravaganza" camp promises a learning experience like none other. It boasts of having appointed experts in dance, music and theatre. The camp caters to the children in the age 6 to 15 age group. The fee is Rs 2,000 a month."
Interestingly, the camp is welcoming adults. To teach dance, well-known Bollywood dancers Rohan Rokre and Uday Pawar, who runs a dancing school called Versatile and has been an assistant to choreographer Saroj Khan, have been appointed.
For singing, Lalit Mishra of the "Gangajal", "Chameli", "Socha Na Tha" fame have been hired whereas for theatre, the services of Mohammad Hammad Farooqui, a senior Doon School faculty member, who has thrice won the best director theatre given by Uttar Pradesh, have been hired to teach children as well as adults the fundamentals of acting. "The response so far has been excellent," said Surbhi, "Smiling Souls".
"Animaster," a leading 2D, 3D and web animation training and production academy in the town, has a large number of students for various courses.
"To enhance skills of children during the long summer break it plans a summer camp, offering students a creative experience. At our institute, students aged 14 and above will be taught drawing, painting, clay modelling, skits and mimickry with the help of Photoshop, a basic software for learning animation skills. We have professionals to teach. For basic course, the fee is Rs 3,000, for those aged 14 and above, there is an advance course for Rs 5,000. The response till now is good. Our camp will begin on May 15 and end on June 14," said Faizi Aleem, Animaster.
Those interested in learning about the history of different countries and with an inclination for art and craft, may enroll themselves with "Funshalla", an academy for creative education. It has collaborated with the Pogo channel to help children hone their creative skills.
"We set up camps in Baroda, Mumbai and other cities but it is for the first time that we have collaborated with Pogo for northern cities. As many as 30 professionals have been groomed by Pogo experts to teach students various activities.
"Art and craft will be taught to children in the age group of 6-10 and 11-15 at Rs 1,450 for 15 days and Rs 2,750 for a month. Dehradun, being a hub of education, has students with a tremendous potential for developing skills in a plethora of activities," said Anju Sikand, proprietor, Funshalla.
"My kid loves the MAD show on Pogo and I am happy that summer camps with innovative activities are taking place in the city," said Pooja.
For those who prefer outdoor activities like skating, horse riding and swimming, Arvind Gupta, an international sports coach, organiser of the "Olympus" summer camp since 10 years, has introduced activities such as roller- skating, swimming, lawn tennis and karate to help students develop their skills under expert guidance.
"We have got a huge skating rink where children can learn with help from professionals and for indoor activities such as salsa dancing and aerobics, we have hired experts. The fee structure is based on the number of activities opted for. A child in the age group of 2 to 16 may join a single activity for a month at Rs 350 or may combine indoor and outdoor activities. Our motive is to give them atmosphere most condusive for learning," said Arvind Gupta.