Yoga struck, foreigners flock to Haridwar
Sandeep Rawat
Tribune News Service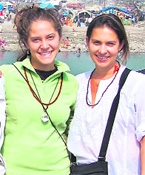 Haridwar, May 15
Haridwar is famous worldwide as a religious centre, one with diversified culture. Little wonder the city is frequented by foreigners, and that too in large numbers. In the past few years, there has been a rise in the number of foreign tourists coming to Haridwar.
In 2006 as many as 11,774 foreigners visited Haridwar and in 2007 the number rose to 15,609. Last year the number increased by 2,245 to 17,854.
This year from January till April 30, the number of foreigners visiting Haridwar has already reached 6,090. The number is significant in view of the Mumbai terror attacks last November.
Yoga and meditation are major attractions for the foreign nationals. They throng yoga centres, ashrams and the world-famous Patanjali Yogpeeth in the city to learn yoga and meditation from experts. They also get to be closer to nature -- serene environs, green mountains and the flowing Ganga.
Also, Rajaji National Park situated in Chila amidst the bio- diverse Shivaliks is a popular destination. It attracts tourists as they get to encounter close to 300 avi-fauna species and a variety of mammals, including the Asian elephant, leopard, tiger, peacock and cheetal.
The park is a favourite destination of wildlife lovers from all over the world. Most foreigners use Haridwar as a base camp to visit Dehradun-Haridwar, Mussoorie and Garhwal hill stations.
The salubrious weather of Dehradun makes it an appropriate base for tourists visiting Haridwar, Rishikesh and the charming hill resort of Mussoorie. Tourists who frequently visit Haridwar are those from the UK, the US, Italy, Germany, Switzerland, Russia and Japan.
Keeping in view the growing number of foreigners visiting the holy city, several hotels offer special packages keeping in mind the needs of foreign nationals, specially the cuisine and accessories.
While the sale, consumption and serving liquor is prohibited in Haridwar city, luxury hotels ferry them to nearby Raiwala or bars on the Dehradun-Roorkee highway where liquor is allowed.
The hotels also arrange for newspapers and magazines and information in Spanish, French, German and Russian to make foreigners more comfortable.
Tourist officer YK Gangwar says since these foreigner nationals are provided several facilities and treated well, they come back with even more tourists the following season. Valentina Myskina, a Russian, says: "Yoga is fast becoming popular with Russians. I was motivated to visit india by my college mate who visited Shanti Kunj in Haridwar last month and got to learn vedic culture and meditation
"Russia has seen turmoil after the breakup of the USSR in 1991 also due to the financial crisis, we come here to get solace and feel rejuvenated after performing yoga and visiting places like Haridwar-Varanasi and Rishikesh."
A group of Brazilian tourists amazed at the cultural diversity of Haridwar said most in Brazil practised yoga and people there knew as much of Haridwar and Rishikesh as Mumbai.
Reneitta Raisina, a yoga trainer in Rio De Janeiro, honed her yoga skills in Haridwar. She said: "In cities of Rio De Janeiro, Sao Paulo and Salvador, there are various institutes conducting yoga classes, and to get to know more one wants to come to Haridwar to learn the intricacies of various yoga asans."
Haridwar offers numerous ayurvedic massage and spa centres. A popular destination, Hotel Haveli Hari Ganga in old Haridwar, is full almost round the year as it is located close to Har-Ki-Pauri and the Ganga.
Another attraction is the facility of herbal and ayurvedic massages that it offers.
But lack of international infrastructure and facilities in the city does irk foreigners visiting here, as does the nagging beggars. The lack of a proper public transport only adds to their woes.
Anna Petrova, a national-level Russian athlete, says: "It's quite arduous to travel as there is no efficient transport system and autos are too expensive.
"Public toilets and information centres are unseen in the city though on websites and tourism documents, they do illustrate these."