Panthers party seeks dismissal of govt
Jammu, June 5
Prof Bhim Singh, chairman of the Jammu and Kashmir National Panthers Party (JKNPP), has demanded dismissal of the National Conference-led coalition government in the state.
PDP for FIR
Srinagar, June 5
The PDP has urged the government to register an FIR in the case of the alleged rape and murder of two women in Shopian. Addressing mediapersons here this today, PDP president Mehbooba Mufti also sought revocation of special powers to the security forces and withdrawal of troops from internal security to prevent such incidents.
Protest against MC, Education Dept held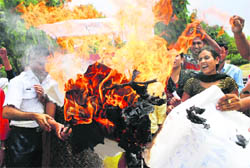 Jammu, June 5
The National Secular Forum (NSF) and the Jammu University Research Scholar Executive Association (JURSEA) held a protest demonstration against the Jammu Municipal Corporation (JMC) and the Higher Education Department for not initiating any action against illegal private study centres of different universities.
Members of the National Secular Forum and JURSEA protest on the Jammu University campus on Friday. Tribune photo: Anand Sharma

JMC to probe illegal study centres' issue
Jammu, June 5
After repeated complaints pouring in about the illegal study centres operating in the city, the Jammu Municipal Corporation (JMC) has issued an order to probe the entire issue.
Tribune Impact
Panel to check illegal constructions
Jammu, June 5
Saurabh Bhagat, district development commissioner, Samba, has constituted a committee to keep a vigil over unauthorised construction going on in the area.
SMGS hospital lacks ventilators
Jammu, June 5
The health sector in the region is in shambles. The only government-run specialised gynaecology and paediatrics hospital in the region - Shri Maharaja Ghulab Singh (SMGS) Hospital - has only two ventilators.
'Discrepancies' in road-widening project
Jammu, July 5
RS Pathania, Independent candidate from the Ramnagar constituency, who lost the recently held Assembly elections, has raised questions on the working of construction agencies undertaking the work on the Roun Ramnagar road-widening project.
Police moots commissioners for Jammu, Srinagar
Udhampur, June 5
Chief Minister Omar Abdullah today asked police officers to discharge their duties with dedication and honesty. Omar Abdullah was addressing passing-out parade of 61 probationary officers at Sher-i-Kashmir Police Academy here. The officers include 31 DSPs, one inspector and 29 sub-inspectors.
Mass cleanliness drive launched
Leh, June 5
A mass cleanliness drive has been launched by the Ladakh Ecological Development Group, an NGO, to observe World Environment Day at Khardong Pass, a popular tourist spot, and some of the residential areas of Leh town.
Hari Om picks holes in Cong decisions
Jammu, June 5
Prof Hari Om, who joined the Congress last year after being a member of the BJP for more than 20 years, showed remarkable courage in bringing to light the injustice done to Jammu while representing Kashmir at all pedestals by the party.
NC activist shot
Srinagar, June 5
A 55-year-old activist of the NC was shot dead by unidentified militants in Pulwama district of south Kashmir, official sources said today.
3 killed, 31 hurt in mishaps
Jammu, June 5
Three persons were killed and 31 injured in road mishaps in and around Jammu today.
Girl commits suicide
Jammu, June 5
Pooja Ghai (22), a science graduate pursuing a computer course, committed suicide allegedly by setting herself on fire on the roof of her house in Gurha Bakshi Nagar here last evening.
3 CEs to probe water tank collapse
Jammu, June 5
PHE Minister Taj Mohi-ud-Din has constituted a panel of three chief engineers — Dalip Bakshi, Bajotra and BR Dogra — to probe the collapse of an overhead water tank yesterday.