PDP for strict action against culprits
Jammu, June 7
Senior PDP leader Shohab Inayat Malik has said that Chief Minister Omar Abdullah has lost credibility after the Shopian incident and should step down immediately.
PDP blames Doda mishap on govt
Udhampur, June 7
Expressing their concern over repeated road accidents in Doda and Kishtwar districts, state PDP secretary Sayeed Asgar Ali, MLC, and senior party leader Thakur Balbir Singh lambasted the state government for playing with the lives of citizens.
PDP leader flays attack on couple
Jammu, June 7
The Peoples Democratic Party (PDP) has alleged that troops of the 39 Rashtriya Riffles have committed atrocities on couple in Kash Blahari village.
Hizbul ultra killed in Bandipora
Militants target police station
Srinagar, June 7
The Army today killed a Hizbul Mujahideen militant in an encounter in Langmarg forests of Bandipora.
NC retains Hazratbal Assembly seat
Srinagar, June 7
The National Conference overcame stiff resistance from its arch rival the Peoples Democratic Party when its candidate Sheikh Mustafa Kamaal was declared elected from the Hazratbal Assembly segment today.
Erratic power supply
Enraged residents threaten stir
Jammu, June 7
Residents of various localities here have threatened to launch an agitation against the Power Development Department (PDD) in protest against the unscheduled power cuts.
Jammu State Morcha condemns shifting of central varsity to valley
Jammu, June 7
The Jammu State Morcha (P) has criticised the state government for adopting dillydally tactics in opening the central university in the Jammu province.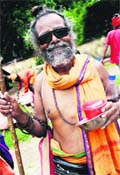 Bad weather may delay Amarnath yatra
Jammu, June 7
More than 1.55 lakh yatris have so far registered themselves for the Amarnath yatra, scheduled from June 15. After the fresh snowfall in the region, Governor NN Vohra, who heads the Shri Amarnath Shrine Board, would conduct an aerial survey of the route on June 11 to see if the yatra can commence on June 15.




This sadhu is all smiles after his registration for the Amarnath yatra. Tribune photo: Anand Sharma
Tourists prefer Bhaderwah to Kashmir
Jammu, June 7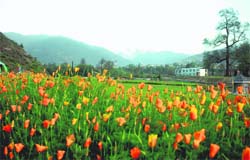 Srinagar's loss of tourists owing to violence, protests and bandhs has become a gain for Bhaderwah, popularly known as mini Kashmir of the state. Owing to its icy peaks, rivers, gardens, lakes and the journey along the gushing Chenab, this hill station, 280 km from Jammu, in Kishtwar district is witnessing a heavy rush of tourists for the first time in many years.
Tulips in Bhaderwah beckon tourists. Tribune photo: Anand Sharma
Expedition to study melting of glaciers
Srinagar, June 7
The proposed ski mountaineering expedition to the Machoi glacier in Drass from June 12 will analyse concerns relating to the melting of glaciers.
Govt 'biased' against Kashmiri Pandits
Jammu, June 7
Vision Kashmir, an organisation of the Kashmiri Pandits, held executive committee meeting under the chairmanship of its convener Sunil Fotedar. Members of the executive committee in the meeting expressed concern over the prevailing situation.
JMC clears 67 residential building plans
Jammu, June 7
The Jammu Municipal Corporation (JMC) held a meeting of the Building Operation Controlling Authority and cleared 67 cases for residential houses.
Include postgraduates in pay band three: Docs
Jammu, June 7
The Doctors Joint Action Committee, Jammu, and the Doctors Association, Kashmir, have demanded integration of pay grade of postgraduate resident doctors in state medical college hospitals with that of an assistant surgeon and house surgeon.
Panel hails BJP support
Jammu, June 7
The Jammu University Research Scholars Executive Association (JURSEA) has welcomed the role played by BJP leaders for supporting the ban on the unauthorised study centres operating in the state.
Leh celebrates Budh Purnima
Leh, June 7
Budh Purnima has been celebrated in Ladakh with traditional and religious fervor. To mark the occasion, several functions were organised at Changthang, Shyam, Nubra and central Ladakh.
7 killed, 59 hurt in mishaps
Jammu, June 7
Seven persons lost their lives whereas 59 others were injured in road mishaps in the Jammu region today.
Jawan dies, 3 hurt in accident
Srinagar, June 7
An Army jawan was killed and three other personnel were injured when their vehicle skidded off the road and hit a tree on the Srinagar-Jammu National highway today, a police spokesman said here.
Villager injured in crossfire
Rajouri, June 7
A villager has been injured in cross firing between militants and the Army in the Kasbalari area of Mendhar.
3 LeT helpers held withSIM cards
Jammu, June 7
Three Lashker-e-Toiba supporters have been arrested in Mendhar belt of Poonch district and four SIM cards seized from them, the police said today.