Parched U'khand seeks central aid
Dehradun, June 14
In the wake of drought-like conditions in Uttarakhand, the state government has sought an assistance of Rs 200 crore from the Centre. Government officials say on account of scanty rainfall in the past six months, a drought-like situation prevails in the state, which needs to be remedied.
No land to set up power sub-stations
Roorkee, June 14
Getting a piece of land to set up power sub-stations has become a major problem for the electricity department, which despite getting sanctions for two powerhouses is unable to proceed with the projects here.
Labour convention discusses meltdown
Haridwar, June 14
During the third convention of Bharatiya Majdoor Sangh (BMS) leaders held here today, unemployment, inflation and economic recession were the core issues that were discussed.
Truck on highway catches fire
Haridwar, June 14
A heavily loaded truck caught fire on the Dehradun-Haridwar national highway in the afternoon today. Vehicular movement on the highway came to a standstill for about 30 minutes.
Nurses go on indefinite stir
Sub-committee to consider demands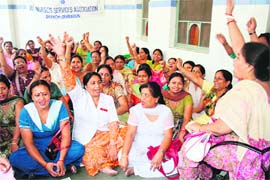 Dehradun, June 14
After abstaining from work for the last two days, the nurses today launched an indefinite stir in support of their demands, bringing the medical services to a complete halt. Several patients who had dates fixed for operations had to return back home, while others were forced to take the private route.
Striking nurses raise slogans in Doon Hospital on Sunday. A Tribune photograph
NCC cadets get glimpse of life in Army
Dehradun, June 14
A group of 120 cadets from 17 NCC Directorates across the country are undergoing a special IMA attachment camp in Dehradun. In the camp they will undergo various activities like weapon training, map reading, physical drill, night navigation and other such drills. The camp began from June of 9 and will conclude on June 20.
Young animator Aman receives award
Dehradun, June 14


Tasmia All-India Educational and Social Welfare Society yesterday honoured the whiz- kid Aman Rehman. He is one of the world's youngest animator and lecturer. Trimila, from a voluntary organisation of Taiwan, honoured the little champ by presenting him a trophy and books.
IMA holds camp on World Donor's Day
Dehraudun, June 14
On the occasion of World Donor's Day today, the IMA Blood Bank organised blood donation camps at Niranjapur Mandi here and Dental College Poanta Sahib. A total of 150 units of blood were collected at the end of the camp in which several donors participated.
Nipul fashions Drona Academy win
Dehradun, June 14
Guru Drona Cricket Academy defeated Uttar Pradesh team by four wickets at the Krishna Devi Garg Memorial cricket tournament underway at Survey Ground, here today.
Eleven Star win soccer title
Dehradun, June 14
Eleven Star team lifted the first Narandra Singh Kharola Football Tournament here today. In the final played at Mahandra Ground here, Eleven Star beat 6/8 GR by a solitary goal.