Dadwal stresses servant verification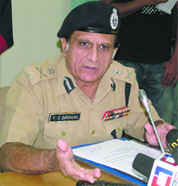 New Delhi, June 19
After a lukewarm response by residents to get their servants registered, the Delhi police is now trying to shift the onus on servants to get themselves registered. Delhi police commissioner Y.S. Dadwal said this while addressing a fortnightly press conference here today. He said in spite of several appeals servant verification in the city stood at 64 per cent. "I am planning to make it mandatory under the Criminal Procedure Code for servants to get themselves registered," said Dadwal.
Police commissioner Y.S. Dadwal. Tribune photo
Noida Expressway claims 2 more lives
Greater Noida, June 19
The accident-prone Noida-Greater Noida Expressway on Thursday claimed two more lives. The victims include a senior television journalist Shailinder Kumar Singh.
Govt, MCD differ on councillors' fund cut
New Delhi, June 19
Reduction in councillors' fund for the development of ward from Rs 2 crore to Rs 50 lakh has become a bone of contention between the Municipal Corporation of Delhi (MCD) and the Delhi government.
3 more swine flu cases reported
New Delhi, June 19
With the Capital today receiving three more confirmed cases of influenza A (H1N1)/swine flu, there are currently 12 patients undergoing treatment at designated health facilities, said an official of National Institute of Communicable Diseases.
Blueprint on Knowledge Commission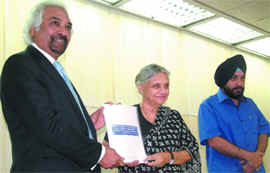 New Delhi, June 19
The Government of Delhi today released the blueprint on the implementation of National Knowledge Commission (NKC) recommendations. The report provides an action plan for reforms in higher education, school education and vocational education with a focus on expansion, excellence and access.
CM Sheila Dikshit with Sam Pitroda releases the report in New Delhi on Friday. Tribune photo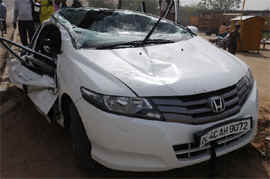 Container falls on car, man killed
Gurgaon, June 19
Subodh (40), a garment exporter of Lajpat Nagar in New Delhi, was killed when a container carrying inverter batteries fell on his car on National Highway-8, near here, today.


The mangled Honda City car on which a goods container fell on National Highway No. 8 near Gurgaon on Friday. Tribune photo: Sayeed Ahmed

Engineering student dies in mishap
He was riding bike in a drunken state
Faridabad, June 19
A final-year engineering student died and two of his classmates were injured in a road accident on Delhi-Mathura National Highway, here late last night.
Sheila releases 'Inside Assembly'
New Delhi, June 19
Chief Minister Sheila Dikshit with speaker of Delhi Vidhan Sabha, Yoganand Shastri, released a book titled, 'Inside Assembly'.
5 held with endangered birds
New Delhi, June 19
Five persons were arrested last night from the Sarai Kale Khan area for allegedly smuggling endangered species of birds from Haryana and Delhi.
Constable beaten, robbed
New Delhi, June 19
Four unknown assailants last night beat up a Delhi police constable in east Delhi. The constable, Dharam Chand, is posted with the New Delhi district police.
50-yr-old held for raping maid
New Delhi, June 19
A 50-year-old man was arrested for allegedly keeping his 18-year-old domestic help hostage and raping her.
Village gets ambulance on Rahul's birthday
Sohna (Gurgaon), June 19
On the occasion of Rahul Gandhi's birthday, the Sohna village got a gift of ambulance today.