Every Wednesday & Saturday
Rise in chain-snatching incidents
Jammu cops step up vigil
Jammu, June 23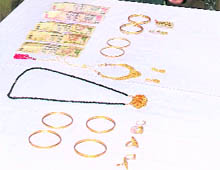 Even as chain snatchers continue to strike in Jammu , the acutely understaffed Jammu police has pulled up its socks to deal with the menace in the district having a population of 18 lakh.
Gold ornaments and cash recovered by the police in Jammu. Photo: Inderjeet Singh
Drying natural resources add to water crisis
Sunder Bani, June 23
The water crisis has hit hard the township and its peripheral villages with the supply from the Public Health and Engineering (PHE) Department becoming negligible, while springs, waterfalls and rivulets have almost dried up. Besides affecting humans, the situation has been affecting cattle rearing as well as agriculture.
Screening of old movies irks youth
Jammu, June 23
Despite the end of the two-month long strike over revenue-sharing terms of multiplex owners, local cinema halls are still running old films, much to the annoyance of moviegoers, particularly the youth.