Study suggests steps to save sloth bear
Sandeep Rawat
Tribune News Service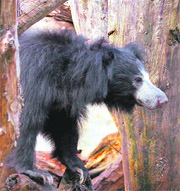 Haridwar, June 26
The sloth bear (Melursus ursinus), found mostly in the base region of the Himalayas to the southeastern part of India, is also one of the rare species that Rajaji National Park can boast of as the topography of the park has both plain and
hill features.
However, sloth bears face a severe crisis today and are hunted for various medicinal purposes. In addition, they face a threat from other wild animals, including tigers, leopards and wild dogs.
Keeping in mind the extinction threat of this rare species, the government of India has put it under Schedule 1 of the Indian Wildlife Protection Act 1972.
Creation of artificial holes at short distances
Strengthening of Chilla-Garhwal forest corridors
Regular monitoring of the footprints, Population census based on scientific techniques
Discussions with villagers living on periphery of forest area
The sloth bear is also listed under the Convention on International Trade in Endangered Species (CITES).
Albeit there are three varieties of bear in Uttarakhand - Sloth Bear, Sloth Black Bear and
Sloth Brown Bear - the latter has adopted to both temperate and tropical conditions.
Rajaji National Park director SS Rassailly says the sloth bear is a rare variety and in India its number is around 10,000, while in Rajaji it is around 20-25. "A sloth bear weighs anywhere from 60-145 kg and is140-170 cm long, but as it lives in seclusion it is rarely seen. So, the counting process is very arduous," he said.
Another worrying factor is that there are few detailed studies on the sloth bear and very little information is available about its movement, habitat, eating habits et al.
In one such study carried out in the Rajaji National Park and the forest areas of Khara, Kasaan, Mithavali, Louni, Rawassan, Mundal in Chilla forest range, several startling facts were revealed about this elusive animal.
To the credit of Rajaji authorities, ever since the decision to evacuate Gujjars from the Park area was taken, the movement of sloth bears has increased, especially in the past one year, which proves that human intervention hinders their natural movement.
The importance of the study can be gauged from the fact that it has found space in the National Journal of Life Sciences as well.
MS Negi, Ranger, Chilla, said: "We kept observing the movement of sloth bears for months.
"As the animal is nocturnal and can't see during the day, we had to track its movement in the dark, which made our task much more difficult considering the risk of wild animals at night."
The movement of sloth bears, as found from its pugmarks, was more in the Garhwal forest division, Luni, Rawasan, Mundal and Pulani areas. It is less during monsoon and summers and most in the period from mid-November to mid-January.
"During other seasons most of its food is found inside the forest area, including Banyan, Jamun, Jungle Jalebi (Pithecellobium dulce), Bel, Mahua, Pipal, Gular etc. Honey, the favourite food of sloth bears, is available in plenty during monsoon," informed biologist Ritesh Joshi.
Radhe Shyam from the Department of Zoology, Gurkul Kangri University, informed that in the study it was also found that smell is the dominant sense in sloth bears; sight and hearing being extremely poor. "There is still contradiction on whether the sloth bear is omnivorous or not. Various studies reveal different facts, but our study shows that their diet depends upon different seasons and on availability of local food," he said.
Certain measures have also been laid out for its protection, including creation of artificial holes at short distances, strengthening of Chilla-Garhwal forest corridors, regular monitoring of the footprints, a population census based on scientific techniques, discussions with villagers living on the periphery of the forest area et al.
The longterm survival of sloth bears depends on socio-economic as well as ecological considerations and needs individual attention, the study revealed.