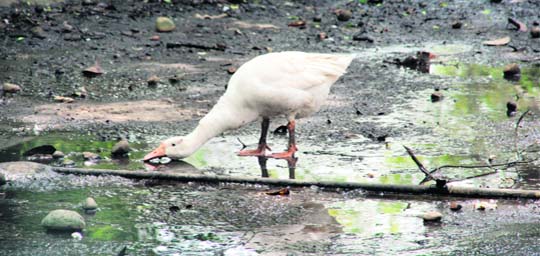 With various water bodies drying up owing to the delayed monsoon, this goose satiates its thirst in a pond on the outskirts of Jammu. Photo: Inderjeet Singh
Omar evades queries on Shopian
Seeks approval for three dental batches
Jammu, June 29
Chief Minister Omar Abdullah today skipped answering queries on Shopian and Baramulla incidents, even as he spoke about delayed monsoon, grim water and power scenario, dilapidated roads. He also talked about the much-awaited Dental Council of India's (DCI) approval to three batches of 54 students of Indira Gandhi Government Dental College.
Fresh survey of BPL families welcomed
Jammu, June 29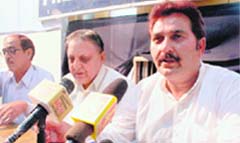 All J&K Dalit Maha Sabha, Jammu, has hailed Chief Minister Omar Abdullah for ordering fresh survey of the BPL families in the state. Addressing a press conference, chairman of the organisation Vijay Lochan said previous list of the BPL was not in keeping with the actual position of the Dalits.
Vijay Lochan, president of the Dalit Maha Sabha, addresses mediapersons in Jammu on Monday. A Tribune photograph
Jammu power staff allege discrimination
Jammu, June 29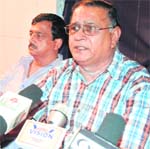 Provincial power employees, Jammu, have accused the state government of adopting dual standards while dealing with the power sector employees of Kashmir and Jammu divisions. Addressing a press conference, chairman of the Provincial Power Employees Union, Shakti Gupta said, "Under SRO 59, the government has extended benefits to the field staff in the Kashmir valley with effect from January 1, 1996, where they got a monthly hike of Rs 5,000 to Rs 7,000 per month, but the employees in Jammu were neglected and were not given their due share."
Shakti Gupta, president of the Provincial Power Employees Union, addresses mediapersons in Jammu on Monday. Tribune photo
Kashmiri Pandits worried over Shopian incident
Srinagar, June 29
The Kashmiri Pandit Sangarash Samiti has condemned the alleged rape and murder of two women in Shopian "committed by members of the police force who are supposed to protect the life and honour of the citizens."
State's polythene ban story reaches far and wide
Srinagar, June 29
As many as 600 volunteers from different states will arrive here to "learn from officials of the Srinagar Municipal Corporation and NGOs" how to implement polythene ban in their respective states.
Illegal Study Centres
NSF seeks SSP's intervention
Jammu, June 29
The National Students Forum (NSF) today submitted an application to the SSP, Crime, requesting him to intervene and ascertain as to why the Department of Higher Education is hesitating in taking action against illegal study centres.
Lal Singh's election challenged
Jammu, June 29
Chairman of the Panthers Party Bhim Singh, who lost the Lok Sabha election from the Doda-Udhampur constituency, today filed an election petition in the high court at Jammu under Article 329 of the Constitution challenging the election of Congress Candidate Lal Singh.
Sanitation
MC team visits Jammu areas
Jammu, June 29
To check the condition of sanitation, today a team of health wing of the Jammu Municipal Corporation (JMC), supervised by health officer Dr Anwar Choudhary, visited different areas.
Gujarat pilgrim dies, UP girl evacuated
11,465 pay obeisance at Amarnath
Srinagar, June 29
While a fresh batch of 5,661 pilgrims left the Baltal base camp this morning, another batch of 1,955 pilgrims commenced their yatra from the Nunwan base camp, Pahalgam, early today.
PDP now active in Doda
Udhampur, June 29
After strengthening its base in the twin border districts of Poonch and Rajouri, the PDP has diverted all its energy towards the mountainous regions of erstwhile Doda district.
Omar inaugurates bridge, powerhouse
Srinagar, June 29
Chief Minister Omar Abdullah has asserted that his government would take the Opposition along in the process of development, irrespective of their party affiliations and carry forward policy planning for comprehensive development in the state.
78 Indians get travel permit to PoK
Poonch, June 29
Pakistan's Ministry of Home Affairs gave mandatory permission to 78 Indians to travel to PoK through the cross LoC-Poonch Rawlkote road. However, just 39 Indians could board the cross LoC bus from Poonch this morning.
Akhnoor gang rape
Main accused arrested
Jammu, June 29
The main accused, who, along with three of his friends, gang-raped a woman on June 27 in Akhnoor subdivision, was arrested last night.
Jawan killed in gunfight
Poonch, June 29
The Army foiled an infiltration bid by militants even as a solider died in the gunfight with infiltrators at PK Post in the Khari Dharamsaal area near the LoC here late last night.
Case against Army unit
Srinagar, June 29
The police today registered a case against an Army unit after hundreds of people staged a demonstration here demanding the whereabouts of a person allegedly picked up by the security forces in Anantnag district.
Youth drowns
Jammu, June 29
A youth drowned in Chenab river this afternoon in Akhnoor subdivision.