153 die in Yemen plane crash
5-year-old found alive from the sea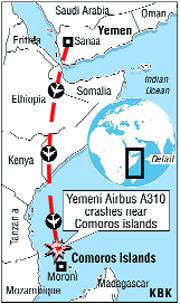 Moroni, June 30
An Airbus A310-300 from Yemen with 153 persons on board, including 66 French nationals, crashed into the sea off the Indian Ocean archipelago of Comoros as it approached in bad weather early on Tuesday, officials said.
A doctor in the Comoros told Reuters a child had been plucked alive from the sea and was being taken to a medical centre. The manager of the international airport in Moroni said the child was five. He said five bodies had also been found. The Paris airports authority said 66 French nationals were aboard the plane, which was flying the final leg of a trip from Paris and Marseille to Comoros via Yemen.
A Yemeni aviation official said there were also nationals from Canada, Comoros, Ethiopia, Indonesia, Morocco, the Palestinian territories, the Philippines and Yemen on the plane.Two French military planes and a French ship left the Indian Ocean islands of Mayotte and Reunion to search for the plane.
"A doctor from the military hospital aboard one of the rescue boats called the Mitsamiouli hospital to tell them a child had been rescued alive," Halidi Ahmed Abdou, a doctor at a medical centre opened for survivors, told Reuters.
It is the second Airbus to plunge into the sea this month. An Air France Airbus A330-200 crashed into the Atlantic Ocean killing 228 persons on board on June 1. A preliminary report on that crash is due on Thursday.
The Paris-Marseille-Yemen leg of the Yemenia flight was flown by an Airbus A330. In Sanaa, those passengers who were flying on to the Comoros changed onto a second Yemenia plane, the A310 that crashed.
French Transport Minister Dominique Bussereau said faults had been detected during inspections in France in 2007 on the Yemenia A310, and that it had not flown to France since.
"The A310 in question was inspected in 2007 by the DGAC (French transport authorities) and they noticed a certain number of faults," he told the I-tele television channel.
"The company was not on the black list but was subject to stricter checks on our part, and was due to be interviewed shortly by the European Union's safety committee."But Yemen's transport minister said the plane was thoroughly checked in May under Airbus supervision. "It was a comprehensive inspection carried out in Yemen ...with experts from Airbus," Khaled Ibrahim al-Wazeer said from Sanaa. — Reuters