Nishank: MPs should help get funds from Centre
Dehradun, July 19
Chief Minister Dr Ramesh Pokhriyal Nishank today said for development of the state, members of Parliament from all five constituencies should ensure that the Union government extends financial support to Uttarakhand.
U'khand to host forest games
Dehradun, July 19
Uttarakhand will be hosting 2011 Forest Games and Sports Meet. It is for the first time that the state has been awarded with this prestigious opportunity. The meet is held every year and is participated by all the State Forest Departments from across the country.
BHEL Community bag soccer title
Haridwar, July 19
The final of the league-cum-knock-out football tournament at the Bharat Heavy Electricals Limited (BHEL) stadium was played under lights.
Cloudburst in Chamoli, 2,000 pilgrims stranded
Dehradun, July 19
As many as 2,000 pilgrims on way to the Badrinath shrine have been stranded in Chamoli after it was cut off from the rest of the country on account of a cloudburst in the district.
Sub-junior Judo C'ship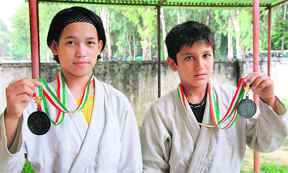 Sabita, Abhay win bronze
Dehradun, July 19
Sabita Gurang and Abhay Rana did state proud by winning bronze at the Sub-Junior National Judo Championship held at Indore, Madhya Pradesh from July 12 to 16. Sabita Gurang, who is a Class VII student, won bronze after defeating a tough opponent from Madhya Pradesh by half points.
Sabita Gurang (L) and Abhay Rana pose with their bronze medals. Tribune photo: Vinod Pundir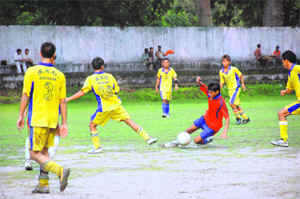 Goals galore for Sports College
Dehradun, July 19
Sports College registered a 7-0 victory over Rishikesh at the District Football League here today. Sports College team played attacking football right from the beginning. Short ground passes and good ball control were the features of Sports College's game. They stuck their first goal in the third minute of the match. Vikas Negi found the net off a cross received from the right.
Doon Varsity
200 appear for entrance exams
Results expected on July 23
Dehradun, July 19
Doon University conducted its first ever entrance examination in environmental science, natural resources and communication, here today. At least 200 students appeared for the examination.
Youth's body found; father alleges murder
Roorkee, July 19
A 24-year-old youth was found murdered at his residence in Ghee Syedpur village, around 17 kms from here, today. The police has arrested a contractor Sanjay on the complaint of Brahm Pal, father of the deceased, Pramod Kumar.
4 lecturers exhibit artworks
Dehradun, July 19
An art exhibition was inaugurated at the Uttaranchal Gramin Bank Art Gallery, here today. Nearly 40 exhibits are on display.
Ayurveda varsity Bill approved
Dehradun, July 19
The Bill for an ayurveda university in the state was recently passed without any opposition in the assembly. Parliamentary affairs minister Parkash Pant tabled the Bill and the House passed it in minutes.The Congress had earlier announced that it would oppose the Bill.
Poacher held in Badrinath forest division
Dehradun, July 19
Uttarakhand Forest Authorities have apprehended a poacher in east Pinder range of Badrinath forest division. The forest patrol party at Nawali forest compartment came across a suspicious person carrying a bag few days back. On confronting him, the person managed to flee leaving behind the bag that was found to be containing leopard's skin.
Statehood agitationists to stage march today
Dehradun, July 19
Seeking permanent capital status for Garsain, Uttarakhand state agitationists would be staging a "Vidhan Sabha March" here tomorrow.
NSUI men create ruckus at cinema hall
Dehradun, July 19
Members of the National Students of Union of India (NSUI) today created ruckus at the New Empire Cinema after the cinema hall authorities refused to let them watch the movie free of cost.