PUNJAB
HARYANA
JAMMU & KASHMIR
HIMACHAL
REGIONAL BRIEFS
NATION
OPINIONS
LETTERS
BUSINESS
SPORTS
WORLD

Thursday, July 23, 2009, Chandigarh, India
Updated at 3:00 am (IST)


26/11 Trial


Hang me: Kasab
Mumbai, July 22
Mohammad Ajmal Amir alias Kasab, the lone surviving terrorist involved in the 26/11 terrorist attack case, today told the special court trying him that he was willing to be hanged if the judge thought that he was confessing merely to play down his own role in the attack as alleged by the prosecution.

Taregana disappoints, Varanasi delights
Lucknow/Taregana (Bihar), July 22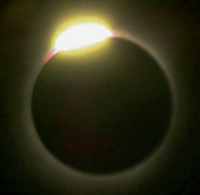 Hundreds of astrophysicists and other scientists who had gathered from across the world to witness the rare total solar eclipse in Taregana in Bihar missed out on the spellbinding view that the crowds enjoyed in Varanasi.
CELESTIAL RING: A view of the solar eclipse as observed over Varanasi on Wednesday. — PTI photo

CAST YOUR VOTE
Is better coordination among states affected by Naxalism needed to tackle the menace?

BRIDES WANTED
GROOMS WANTED
OTHERS
HOW TO PLACE ADVTS
EDUCATION
JOBS & CAREERS
HEALTH & FITNESS
SCIENCE & TECHNOLOGY
REAL ESTATE
SPORTS
TRIBUNE CLASSIFIEDS
US airline apologises for frisking Kalam
New Delhi, July 22
Continental Airlines on Wednesday issued an apology to former President APJ Abdul Kalam for frisking him at the IGI Airport but the Bureau of Civil Aviation Security is yet to receive the US-based airlines' letter of regret.
Sonia rap for absent Cong MPs
May appoint co-convenors to ensure attendance
New Delhi, July 22
Unhappy over party MPs not defending the government on critical matters, Congress president Sonia Gandhi today reprimanded them for playing hokey from Parliament.
To address party leaders on July 30
NDA 60 Glorious Years
1857 The First Challenge
E - Revolution 2005:
A Two-day IT conclave
Assembly Elections - 2005
Turbans
Chandigarh is 50
125 Years of The Tribune
India: The Tasks Ahead
India at Sixty
A Tribune Supplement
EARLIER FEATURES
On Sundays
On Saturdays
Pilgrimage to Israel
HC puts brakes on subsidy to Christians
Hyderabad, July 22
In a setback to the Congress government in Andhra Pradesh, the High Court today stayed an order providing financial subsidy to Christians for pilgrimage to Israel.
Now, withdraw money from shops
Chandigarh, July 22
From now onwards, your ordinary debit card will help you withdraw cash. More importantly, you do not have to rush to an ATM to withdraw the money, but can do so at the nearest shop using the point of sale terminal. In a major relief for consumers, the apex regulatory bank, Reserve Bank of India (RBI), has today allowed a cash withdrawal facility at any point of sale (POS) terminal.
US airline faces FIR for frisking Kalam
July 22, 2009

PM conveys concerns over protectionism
July 21, 2009
Consensus on 'fair' climate change pact
July 20, 2009

Hillary hails Pak intent to fight terror
July 19, 2009
No dilution in stand: PM
July 18, 2009
India delinks terror from composite dialogue
July 17, 2009
New Delhi, Islamabad move closer to dialogue
July 16, 2009
Colours of India in France
July 15, 2009
Another Metro mishap injures 6
July 14, 2009
Delhi Metro bridge collapse kills 6
July 13, 2009