In seven years, people to vehicle ratio jumps to 9:1
Dehradun, July 26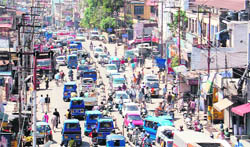 There has been a phenomenal rise in the number of vehicles in the small and big category in Uttarakhand. As per Uttarakhand Transport Department records, as many as 9.21 lakh vehicles of all types (two, three and four wheelers) are presently registered with the regional transport offices across the state. As the state's population is 86 lakh, the people to vehicle ratio comes out to 9:1.
Vehicles make a beeline at Gandhi Road in Dehradun. Tribune photo: Anil P. Rawat
Yet another accident; 3 dead
Dehradun, July 26
Three persons in a Bolero jeep (UA-01-4522) were killed when the vehicle skidded off the hill road near Garampani in Nainital district of Kumoan today. The vehicle was on its way to Almora when it met with the accident at 7.30 am. All three occupants were killed.
118 donate blood at ONGC camp
Dehradun, July 26
Each year, Martyrs' Day is observed by the Oil and Natural Gas Commission (ONGC) on July 27 in memory of ONGCians who laid down their lives for the country while on duty.
Swine Flu: 2 students at IIT test negative
Roorkee, July 26
The two foreign students, who had been quarantined at IIT hospital on suspicion of being infected with the swine flu virus, have tested negative. The patients - one from Myanmar and another from Ethiopia - were quarantined along with three other patients (all foreigners) at the isolation ward in the hospital when they were observed with symptoms similar to the H1N1 virus. The students were on a visit to IIT, Roorkee, for study purposes.
Reserved seats remain vacant at IIT-Mandi
Roorkee, July 26
All reserved seats under schedule tribe and physical disabled categories remained vacant in the first ever batch of newly launched IIT-Mandi classes, for which classes would take place at IIT-Roorkee, here from July 27.
Meanwhile, introductory session begins amid cheer
Roorkee, July 26
Excitement, happiness and curiosity marked the maiden Introduction Session of IIT-Mandi, which took place at IIT-Roorkee, yesterday.
Doctors, social workers awarded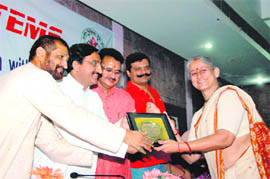 Dehradun, July 26
At a function jointly organised by the Provincial Medical Services Association, Fitness Systems and Indian Medical Association here today, medical practitioners from government and non-government sectors and representatives from Non-Government Organisations (NGOs) were honoured by Chief Minister Dr Ramesh Pokhriyal Nishank.

Dr Jyoti Sharma, a gynaecologist, receives Medical Execllence Award by Chief Minister Ramesh Pokhriyal Nishank in Dehradun on Sunday. A Tribune photograph
Report: 2,386 schools in Garhwal lack quality education
Dehradun, July 26
A report prepared under the aegis of government of India has termed the standards of education to be poor in several schools in Garhwal region where the Sarv Shiksha Abhiyan (SSA) is underway.
Monsoon, a testing time for pet owners
Dehradun, July 26
We all love monsoon but this season brings along the risk of many waterborne diseases for human beings as well as for pets. Elevated levels of humidity seem to be treacherous for these furry creatures.
Underage driving dangerous: Dist judge
Dehradun, July 26
Dehradun district judge Indira Ashish has called upon students to refrain from driving vehicles before attaining the age of 18 years. She was speaking at a function organised by the District Legal Aid Cell at Aryan school, here today.
BCCI Affiliation
No headway; scribe forced to file another RTI
Dehradun, July 26
The effort made by a Dehradun-based journalist to help Uttarakhand get affiliation from the BCCI does not seem to be bearing fruit. The journalist is in a fix over the proceedings of the hearing under the RTI that took place in June.
Finally, forest guest house gets a facelift
Dehradun, July 26
Finally, the British era Gola Tappar Forest Guest House in Barkot range of Dehradun forest division has got the much-needed facelift after having been abandoned for almost two decades.
Doon invited for Gold Cup
Dehradun, July 26
After eight years of state formation Dehradun District Football Association has got an invitation to participate in a prestigious 31st All-India Sikkim Governor's Gold Cup Football Tournament.
Dipesh strikes twice in Khukri Club's win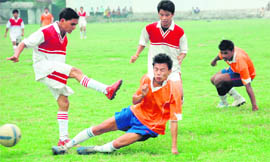 Dehradun, July 26
Khukri Club registered a 3-0 victory over Jr Cantt and Eleven Star defeated Doon Valley in a tough contest by a solitary goal at the District Football League at Pavilion Ground here today. It proved to be a one-sided match between Khukri and Jr Cantt. Khukri was on the attack right from the beginning.

A match in progress at the Dehradun Football League on Sunday. A Tribune photograph