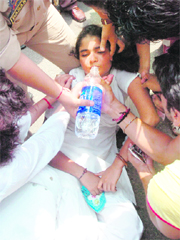 A student of Government College for Women, Gandhi Nagar, being fed water as she faints during a protest for the setting up of the proposed central university in Jammu on Friday. Tribune photo: Anand Sharma
Two held with fake currency
Udhampur, July 31
With the connivance of some government officials, militant groups active in the Kashmir valley have been circulating counterfeit currency notes in some parts of the Jammu region. This came to light during the interrogation of two smugglers arrested this morning at Kishtwar with fake currency notes and sapphire.
Shopian case
Decision on cops' bail plea reserved
Srinagar, July 31
The Shopian Sessions Court today reserved its order till Thursday on the bail pleas by four police officers in connection with the rape and murder of two women after marathon arguments in the case concluded today.
Sex Scandal
BJP threatens to boycott session
Jammu, July 31
Expressing its concern over unusual ruckus in the Assembly, a miffed BJP today threatened to boycott the ongoing session in case the spat over sex scandal was not ended by the PDP and the ruling NC.
Cabinet resolves to seek 2 central varsities
Srinagar, July 31
The state government will approach the Centre for the sanction of two central universities, one each for Jammu and Kashmir, in view of the aspirations of the people of the two regions.
Two universities' proposal 'eyewash'
Udhampur, July 31
Students agitating against the alleged shifting of the central university from Jammu to Srinagar today outrightly rejected the state government's proposal for a central university each in Jammu and Kashmir regions.
NC nominee set to enter Rajya Sabha
Srinagar, July 31
The nomination papers of Ghulam Nabi Wani (Rattanpuri), NC candidate for the lone Rajya Sabha seat in the state, were found valid on scrutiny here today.
Nod to 462 compassionate appointments
Srinagar, July 31
Chief Minister, Omar Abdullah has granted relaxation to 462 compassionate appointment cases, paving the way for an equal number of next of kin to get government jobs.
Two hideouts unearthed
Jammu, July 31
Two militant hideouts were unearthed in Reasi district and a cache of ammunition and other daily-use stores seized, the police said today.
PDP for speedier trial
Srinagar, July 31
Demanding to speed up investigations in the Shopian case, PDP president Mehbooba Mufti said the delay in spite of the High Court directions was creating doubts about the intentions of the government.
Chhari Mubarak begins journey to Amarnath
Srinagar, July 31
Chharri Mubarak, regarded by devotees as the holy mace of Lord Shiva, carried by Mahant Depinder Giri and accompanied by a large number of sadhus reached Pahalgam this afternoon where it was received by Anantnag ADC Bashir Ahmad Khan and other officers.
8 officials suspended
Srinagar, July 31
Eight state government officials were placed under suspension for their unauthorised absence from duty in Budgam district today.
Grabbing of Temples' Land
Kashmiri Pandits seek CBI probe
Jammu, July 31
The All-Party Migrant Coordination Committee (APMCC) along with various organisations today demanded a CBI probe into the alleged grabbing of land of temples by mafia in the state. They warned the state government that they would go on an indefinite chain fast from the first week of September if it did not ensure a CBI probe immediately.